Selective Pieces from My Personal Collection
You can scroll down this page or click on the following links to jump to specific items which have been bookmarked. I know this will take some time to download if you have dial-up service, but be patient, it is worth the wait if you are into Minox.
Gold Plated IIIs Display Dummy
"Sample Modell" Light Meter
Dual Range Light Meter
Fabulous Minox IIIs Display Board
Fabulous Minox B Display Board
1950s Dealer Display Case
1960's Dealer Display Tray
Diplomat Case for IIIs & Mystery Case for Model B
Cancelled Minox, Inc. Checks
An Original Factory Order and Invoice From 1951
Don Thayer's 1950s Business Card
Richard Nixon Captured on Minox Slide
An eBay Bargain
Early Electronic Flash Set
An Unusual Camera Case
Minox 35 GL Clear Display Model
Minox A/II Clear Covered Display Model
Minox Memo Collection in Special Memo Binder (From Thayer Family)
Minox III #33333 From the Thayer Family's Collection
Minox Wetzlar "Model 1" Enlarger #515
Gold Plated Minox A Sets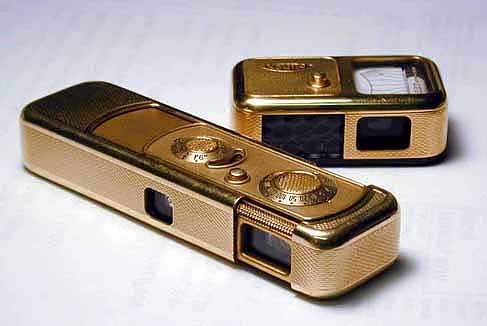 Here is the prize of my collection, a gold plated unsynchronized Model A and meter. I bought this set from the son of the man who was president of Minox USA until the early 1950's, a Mr. Janis Vitols. Janis Vitols was the nephew of Teodors Vitols, who was the General Director of VEF in 1936 and was instrumental in the commercial development of the original VEF Riga Minox camera. More details about the early years of Minox can be found in Morris Moses' fine book "Spy Camera - The Minox Story".
Here's a recent acquisition. This set features a metric scaled gold plated IIIs camera with meter.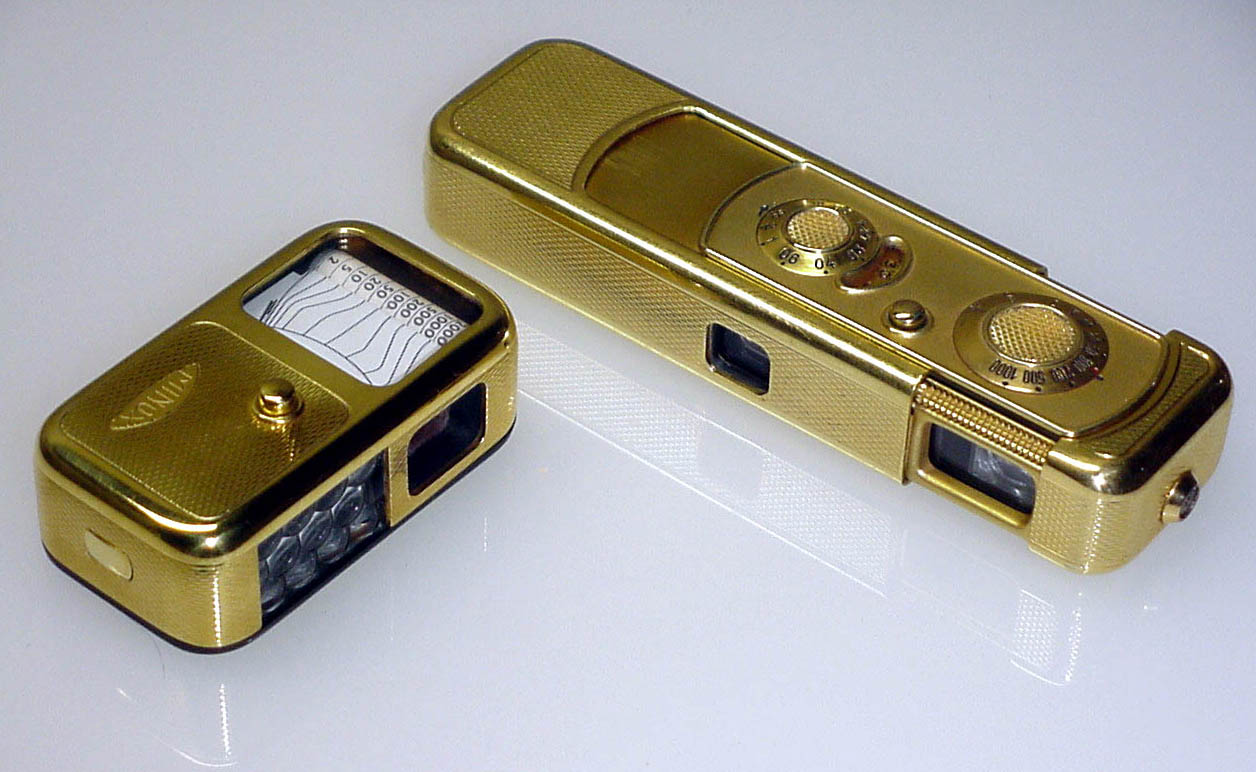 Here are the matching crocodile leather cases: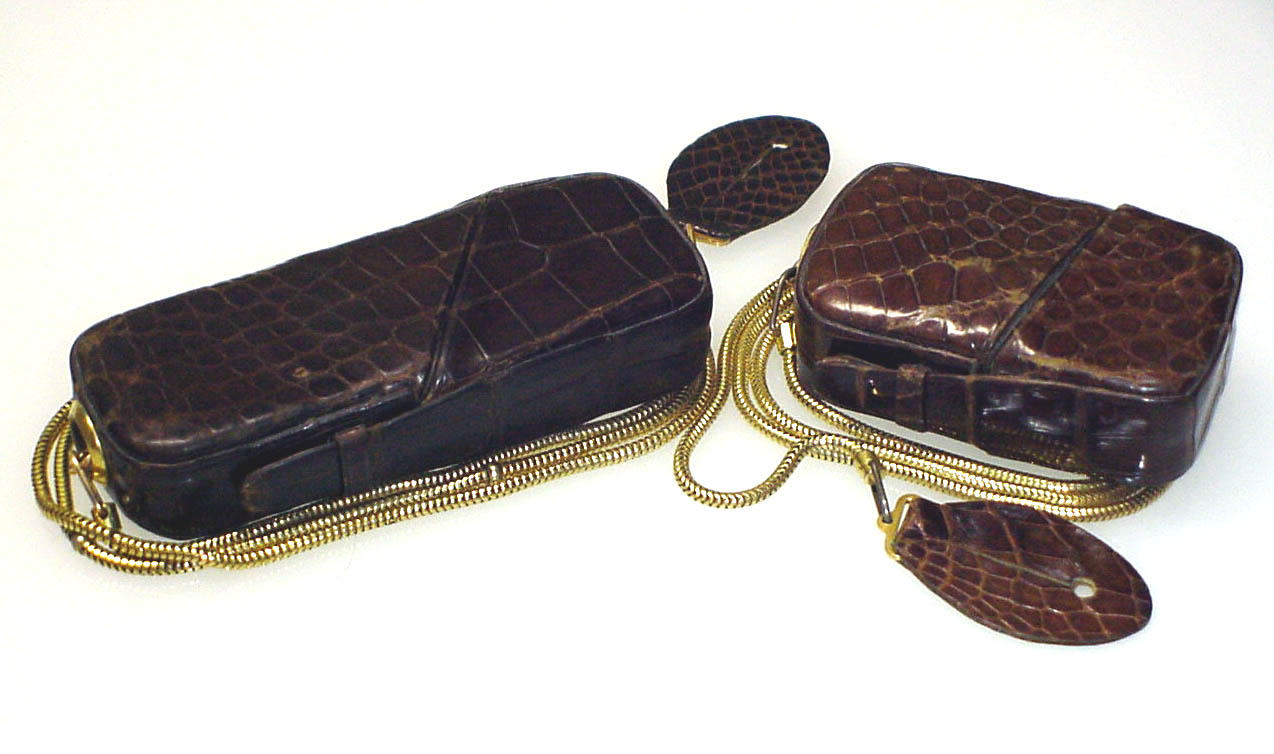 Shown below is an Imperial scaled Minox IIIs with its proper case and chain which I recently acquired. It is interesting to note that its serial number is 121XXX which is the latest gold plated IIIs I have ever seen.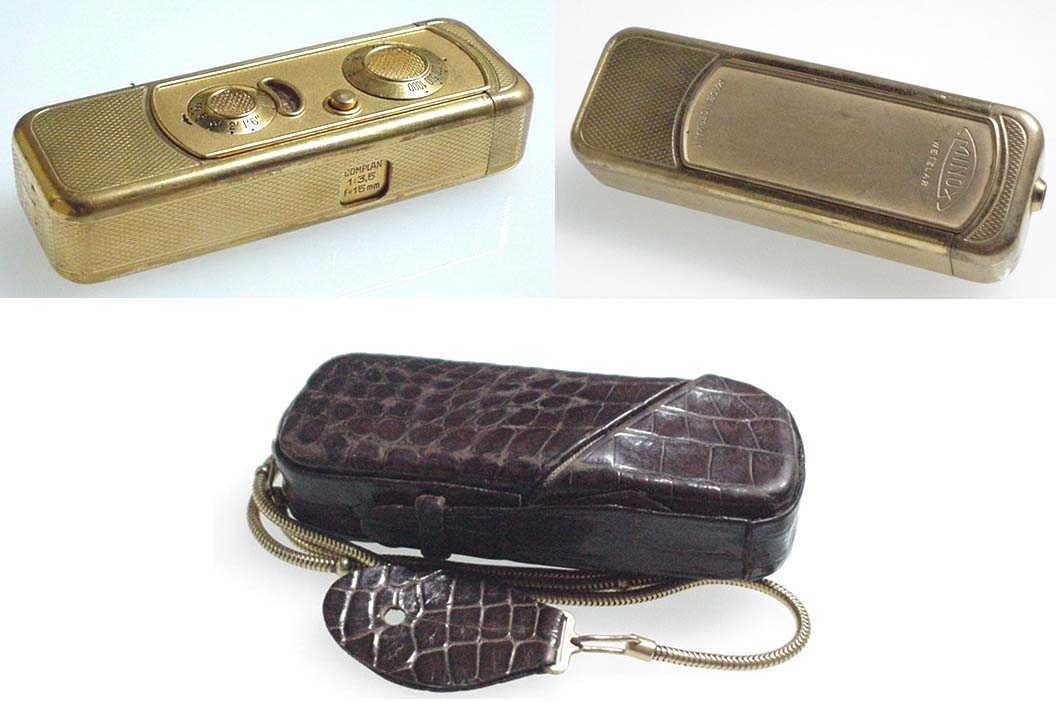 According to a sales brochure from 1959 the gold plated IIIs camera sold new for $299.00 and the meter was $65.00. Both came with genuine alligator leather cases and gold chains. This was more than twice the price of the standard "satin chrome" camera's price of $139.50 and meter's price of $27.95, which was quite an expense back then so you can see why there were not too many of the gold plated sets sold. Adjusting for inflation based upon the US Government's published consumer price index would equal nearly $1,800.00 for the gold camera and $840.00 for the chrome camera in 2002 dollars! Interestingly, the gold plated AX and chrome AX cameras sell today for about those adjusted prices.
I am desperate to add a Gold Plated Minox B to my collection, if you have one to sell or know of one for sale anywhere please contact me!
---
Gold Plated IIIs Display Dummy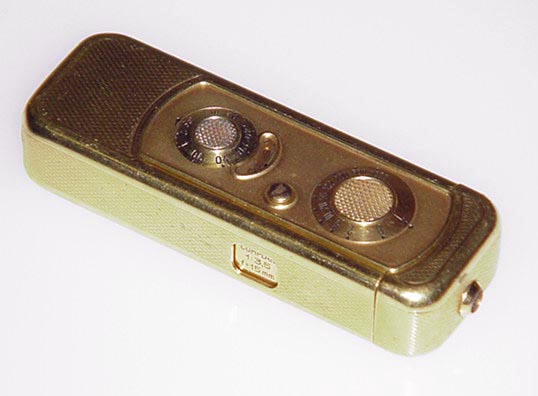 This was an exciting find and is probably even rarer than a functioning IIIs in gold. It is a dummy camera, or rather a display model which I believe was either a pre-production prototype or a model used purely for display as it is only finished on the exterior and the interior has a dummy chassis and un-plated parts. It is not one of the "trophy" cameras which were originally part of a prize trophy (these can be detected by the presence of holes on the end of the camera body where it was held in place, plus those don't open and this one does). This one is an oddity and one of those hard to find items whose history will probably never be known. Top
---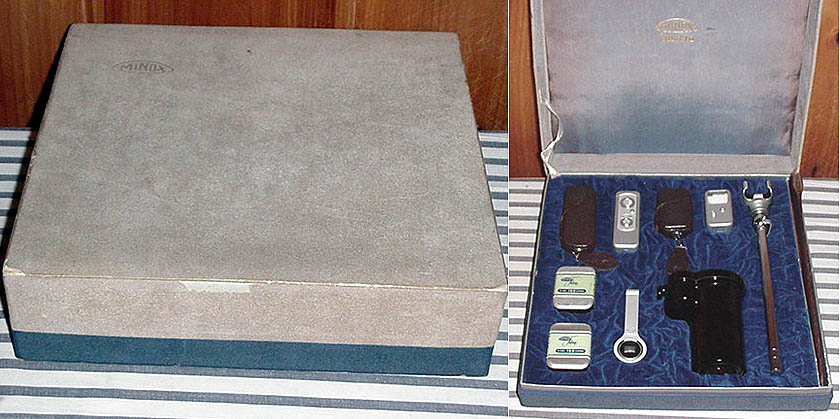 Just think how excited the owner of this deluxe IIIs set would have been in 1955. It came with the camera, meter, cases and chains for each, tripod with case, tank with thermometer, film viewer and two packs of film in a nifty blue velvet lined box. I have not seen this set documented in any literature so I do not know what it was sold for in the 1950's, but based upon the price of each respective component it is safe to say that it easily would have topped $250, or probably a month's pay for the average middle class family! Also interesting to note that I have only seen a set like this come up for sale one other time which leads me to believe they are extremely rare.
---

This is a very early pre-production prototype meter. It is different from the production meter because the film speed scales on this early model are color coded. I have also seen a production "Minosix" meter with the same color coding, but the interesting thing about this meter is its "Sample Modell" engraving. I bought this one with a III camera and it came with monogrammed cases. I can't figure out how it was allowed to be sold to the public with the clear labeling of being a sample, but apparently it slipped out of the factory..
---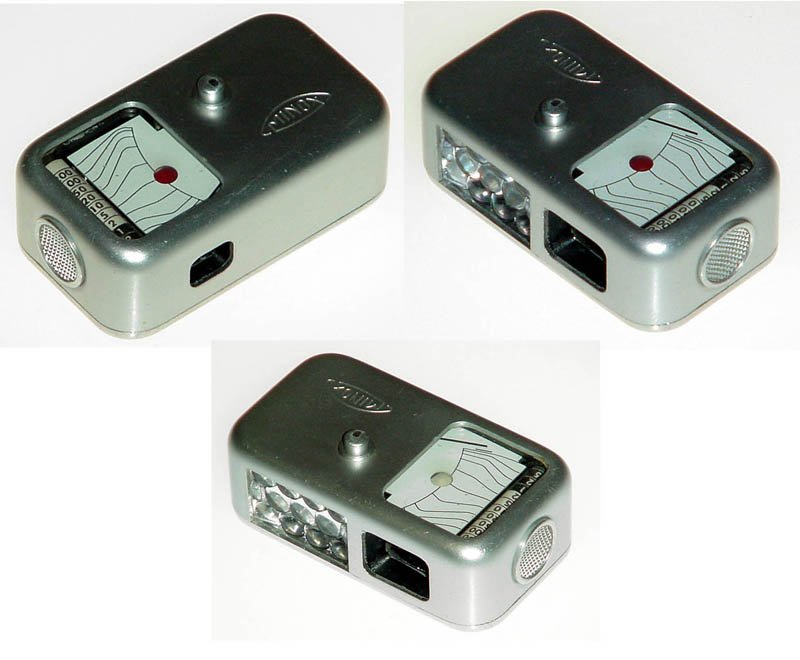 This very unusual light meter is a dual range model. Made only very late in production. This version allowed the owner of a late Minox IIIs equipped with a neutral density filter to be able to read directly from the scale by setting the low-sensitivity setting by turning the knurled ring shown on the end of the case (so the red dot appears on meter scale). I suspect only a couple of hundred of these were made and I have never seen another one. Mine is over serial number 90,000 which is also indicative of the very end of the run.
---
Fabulous Minox IIIs Display Board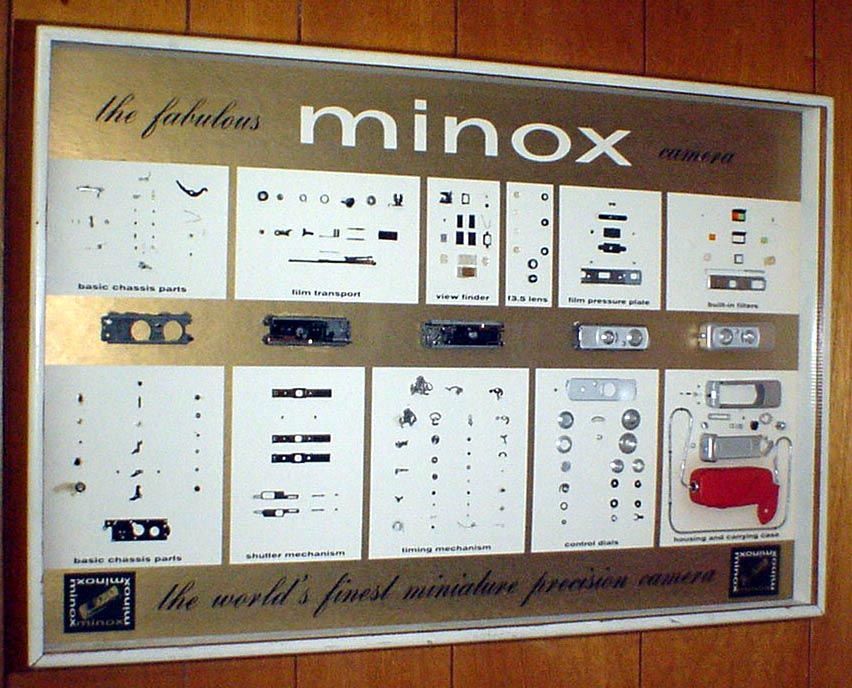 This is another piece which I feel quite fortunate to own. It was originally used by Minox for their trade shows and came to me in a custom made shipping container with shipping labels showing various locations where it made an appearance. This board is not a poster, but actually has the parts to several brand new cameras in various states of completion and shows all of the parts which comprise the IIIs model. Special thanks to Bob Breverman who decided to part with it so I could add it to my permanent collection. It proudly hangs in my office.
---
Fabulous Minox B Display Board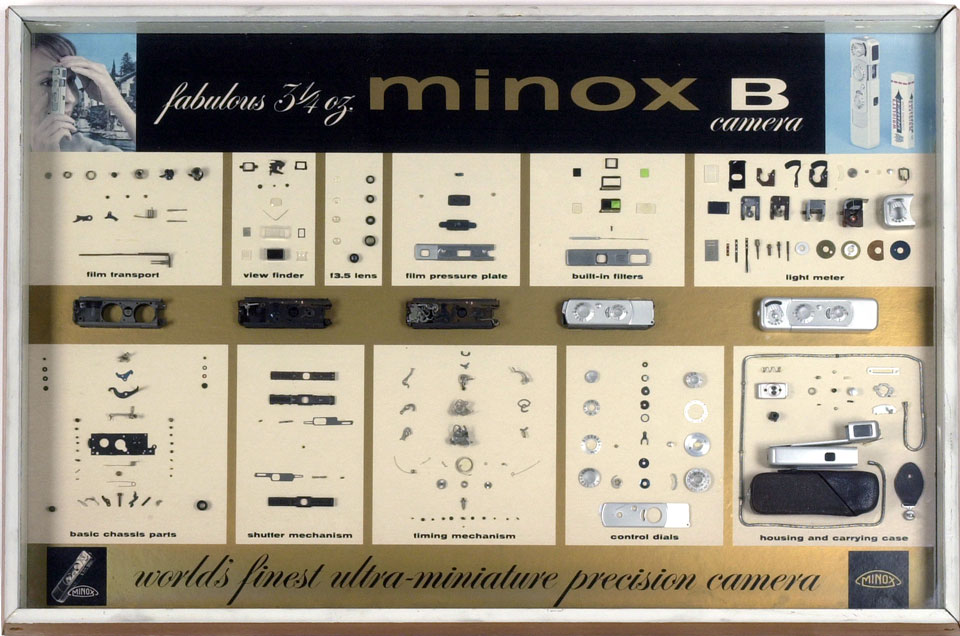 Like the Minox IIIs board, above, this one displays all of the parts of the Minox B camera which are glued to the backer board and arranged in various groupings. It's a recent addition to my collection and hangs next to the IIIs board on a wall in my office. It's a terrific piece and one which I think is even rarer than the IIIs version. Top
---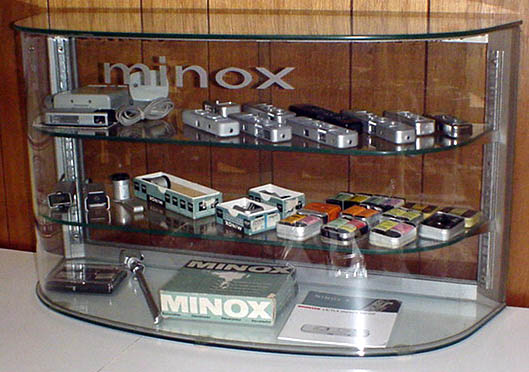 This is a glass counter-top dealer display case which dates to about the late 1950's and features a curved front with the Minox name acid etched into the glass. It has two shelves and was made by the Columbus Show Case Company of Columbus Ohio (they are still in business today!). I use it to display some small accessories and also my collection of dummy cameras which range from a Riga to LX with all models represented including a black C camera dummy. This case was found on eBay from a seller in Springfield IL. I never saw one for sale prior to this and I have never seen one since, though there is one similar pictured in Hubert Heckmann's fine "Variations in 8X11" book.
---

This tray was designed to display nearly the entire line of Minox B cameras and accessories available during the 1960s. There were at least two versions of this tray and I believe this is the later one thought the differences are subtle. These, like the other dealer display items seen on this page rarely come up for sale. Most, I suspect, were thrown away after the camera line was discontinued. It's a shame because collectors today will have to pay on the order of $1,000+ for one of them in nice condition, and that's without their contents!
---
Diplomat Case for IIIs & Mystery Case For Model B!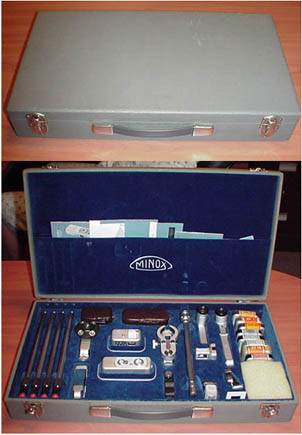 While this is often referred to as a salesman's sample case, I believe it was sold to the public as it was advertised in a 1959 Minox brochure called the "Diplomat Case" and was offered for $39.95. Whether salesman used it or not is still a question in my mind...what is not a question is what a great piece it is! It has also appreciated quite a bit from its original price. I bought it from a seller in Australia, and you can see it holds a transparency in the compartment just below the mirror finder...the slide features a late 1960's vintage VW bug parked in front of the Sydney Opera House...a nice bonus, although it was shot with a 110 format camera not the Minox!
I also have this "mystery" case which I have not been able to identify the origin of: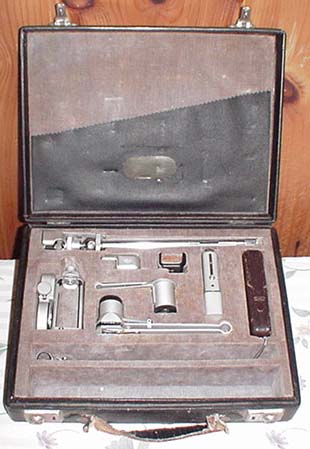 This case was designed for the Minox B and its accessories. I don't know if it was made by Minox or not but if it was aftermarket or homemade it is very well done. If anyone has seen a case like this one before and knows its origin please contact me and let me know!
2010 Update. I have acquired another of these "mystery cases" but this one is in much better condition than the original one I had. Here's two photos of what it looks like: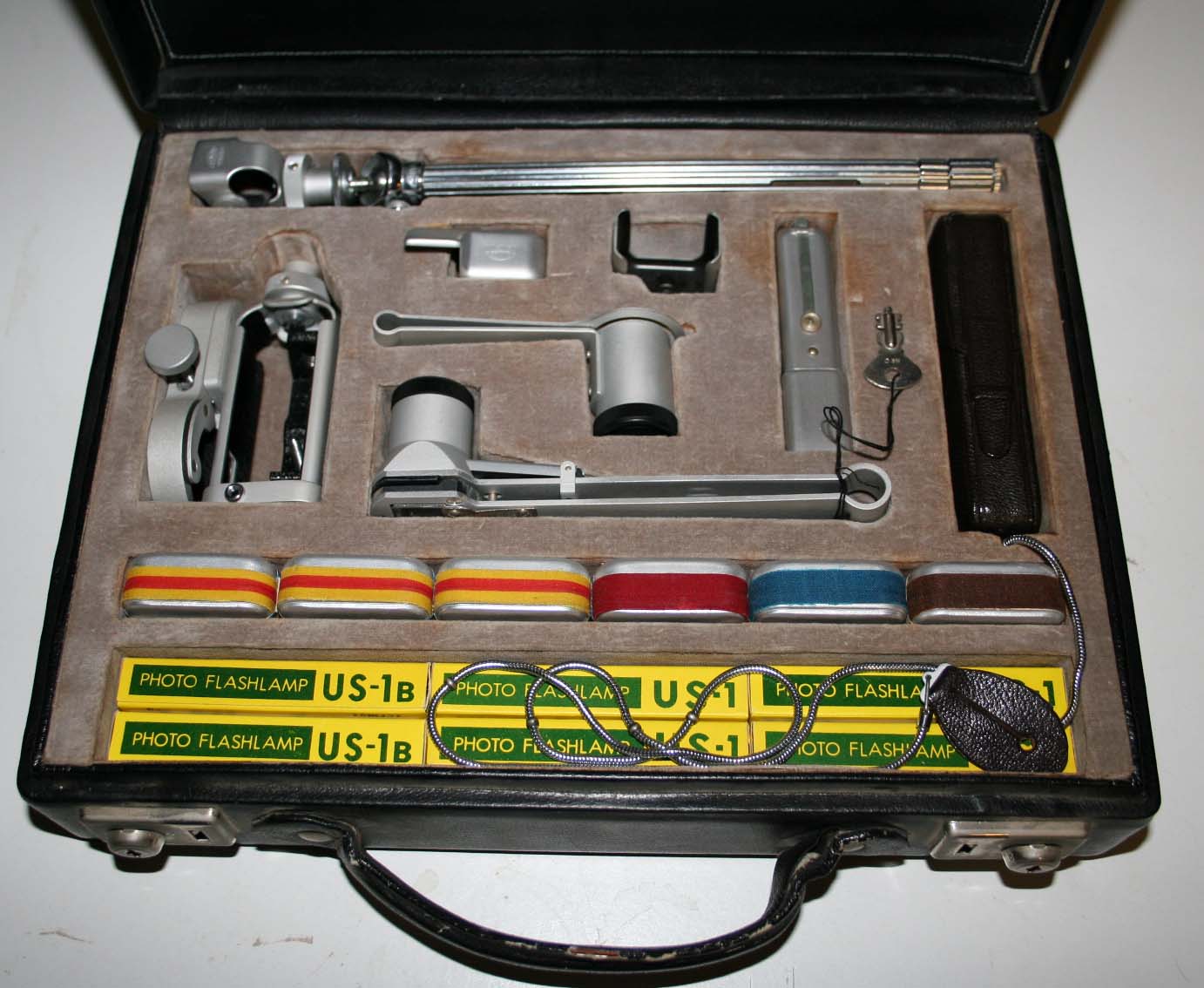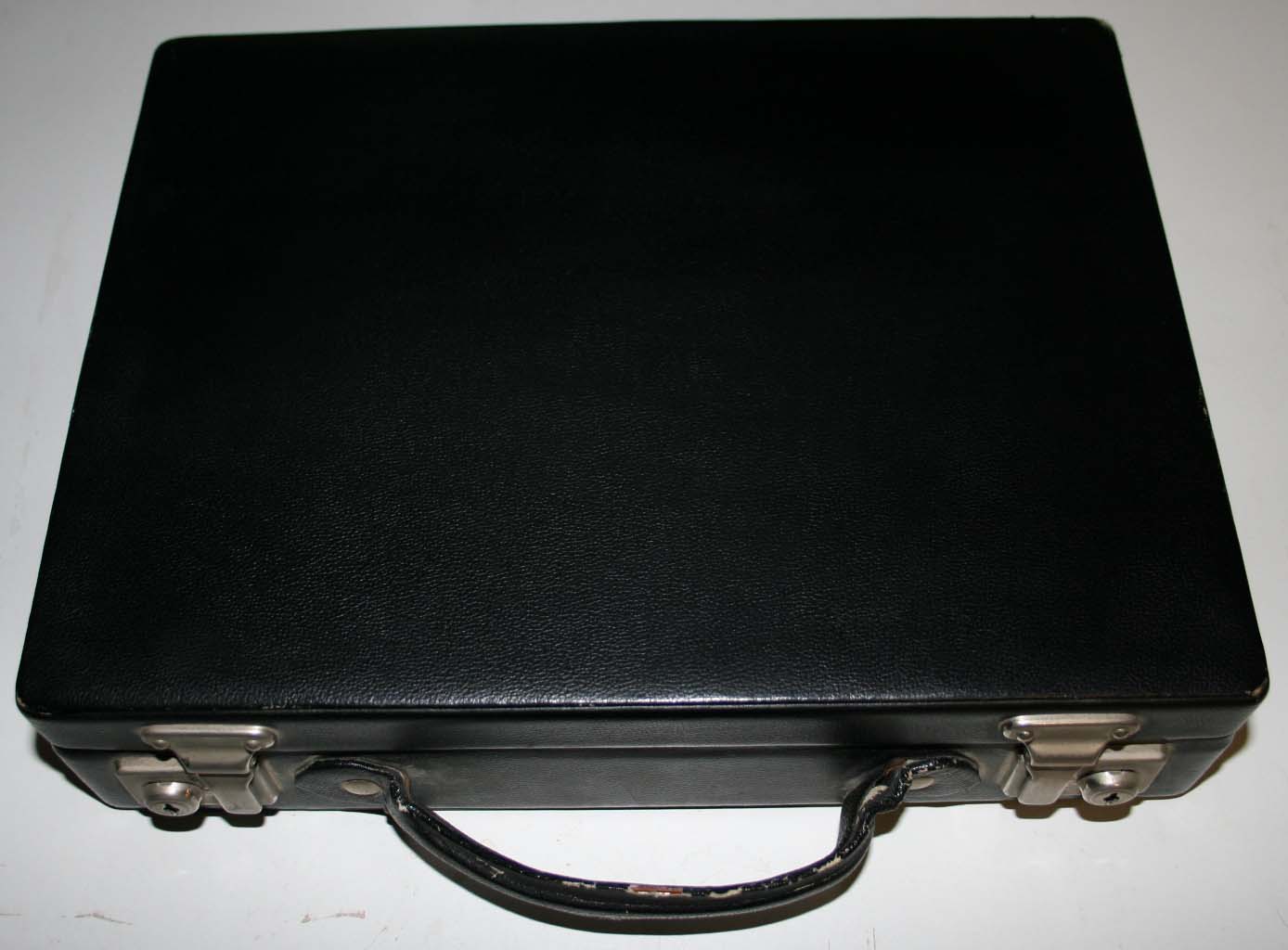 The gentleman who I acquired it from said the person who sold it to him claimed it belonged to a relative who returned from a trip to Hong Kong with it in the 1960s. This would make some sense as the case has no maker's mark, and might have been an aftermarket case made for tourists at that time. The films in it are unopened and all have expiration dates of 1965 or 1966. The funny thing is these are the only two examples of this interesting little case I have ever seen...and now I own both!
---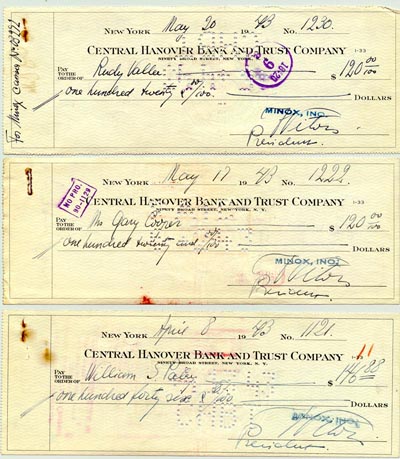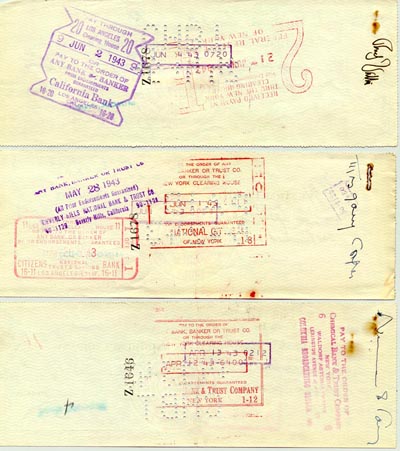 While the term "one of a kind" is thrown around quite a bit, these cancelled checks from 1943 truly are. They document a program where Minox USA bought back cameras from owners for use by the US Government (under contract from the OSS). These particular checks are especially interesting because of their payees which are Rudy Vallee, Mrs. Gary Cooper and William S. Paley. I have also shown the backs of the checks to reveal their personal endorsements. In the case of Mr. Paley, note the Columbia Broadcasting System endorsement stamp under his signature.
---
An Original Factory Order and Invoice From 1951


This is an interesting historical document for a few reasons. First, it helps to date cameras in the 36,000-38,000 serial number range to November of 1951. Second, it shows that the wholesale cost of the cameras to Minox, Inc. in the USA was $43.50 each and third, it shows that onion-skin carbon copies do not hold up all that well after 50+ years! I am lucky enough to have found two of the cameras on this list (#37 712 & 38 165) but am always looking to find more. Maybe you have one of them? Now you know it's (approximate) birthday!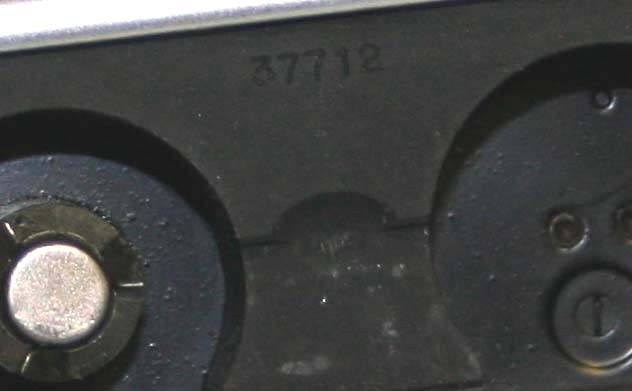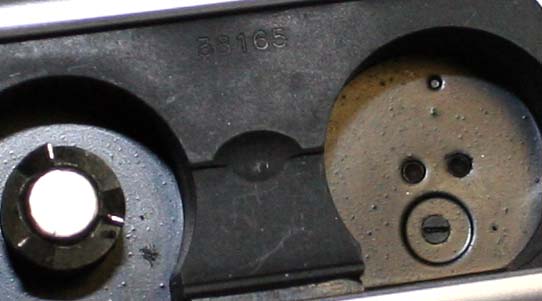 ---
DON THAYER'S 1950's BUSINESS CARD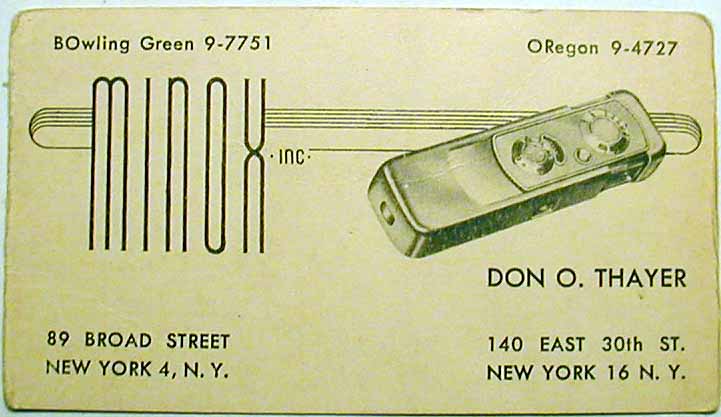 A special thank-you goes out to Don Thayer Sr.'s grandson (Lee) and his dad (Michael). Michael served as VP of Minox Processing Labs from 1973 to about 1994, as I am learning this was very much a family business. They were generous enough to share this scan of an original 1950's business card belonging to Don Thayer, Sr. There are two addresses on the card; one is the 140 East 30th Street address which is the same as on the 50's invoice shown above and which was the Vitols' home address and the original NY office for Minox. It's nice to see vintage papers that have survived all these years and interesting to see the company logo which matches that one the letter from Janis Vitols, above.
---
RICHARD NIXON CAPTURED ON A MINOX SLIDE!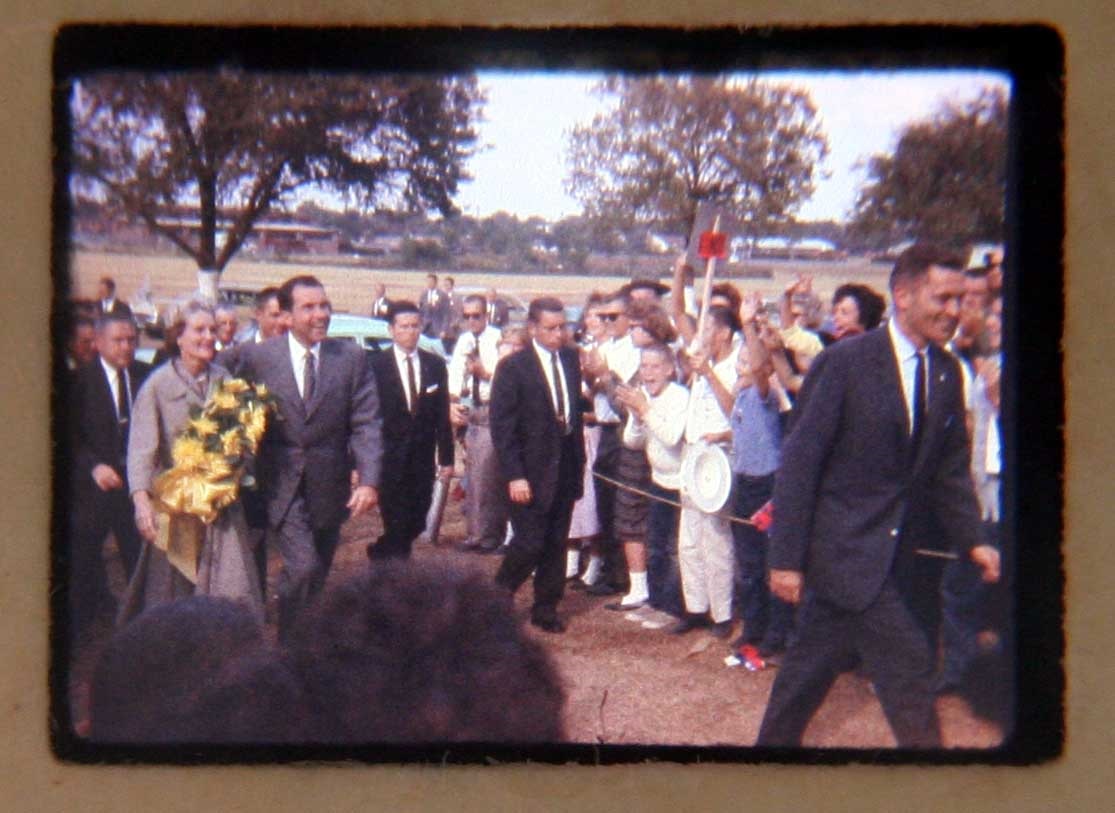 I was fortunate to have bought a small collection of Minox slides on ebay recently and found one labeled "Nixon 10/15/1960" This is what was on that slide! You can clearly see Dick and Pat on the left at what looks like a campaign event just about 3 weeks before the historic 1960 presidential election which he lost to John Kennedy...the famed "you won't have Nixon to kick around any more" election. It is interesting both for Minox enthusiasts and for collectors of presidential memorabilia. Nice too that it is a slide which is original film as opposed to a print which there can be many copies.
---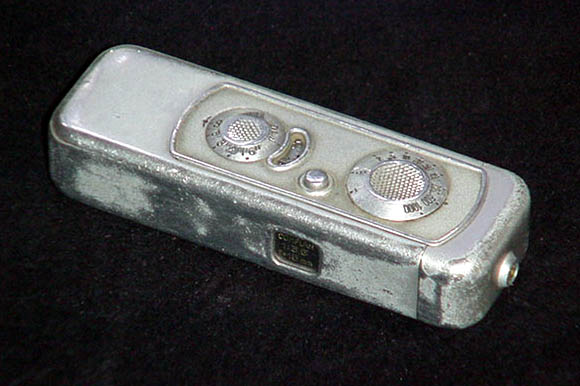 The term bargain is used a bit tongue in cheek here. This little IIIs has the distinction of being the most used looking camera I have ever seen. It was not abused, there are no dents or dings, it is just worn. It was obviously carried in someone's pocket for years (without a case). The control dials are worn down and much of the knurling in the center of the focus dial is smooth. Sort of reminds me of old silver coins the way they wore from pocket use. Most of the anodization is gone and a lot of the finish is polished to a shine from wear. Of course the seller on eBay listed it in excellent condition and working when I bought it. It was neither, but I fixed it and now it is one of my favorite pieces because it was obviously used as it was intended to be...by someone who had it with him for years. After cleaning out the lint and dust and lubing the mechanism it works again. In fact, some of the shots I have posted on my "Minox Photos I have Taken" link were shot with this camera, including the ones of the old cars, the water pump and the the balloon vendor. Its optics were perfect. Now, it is my user IIIs and always has a roll of film in it.
---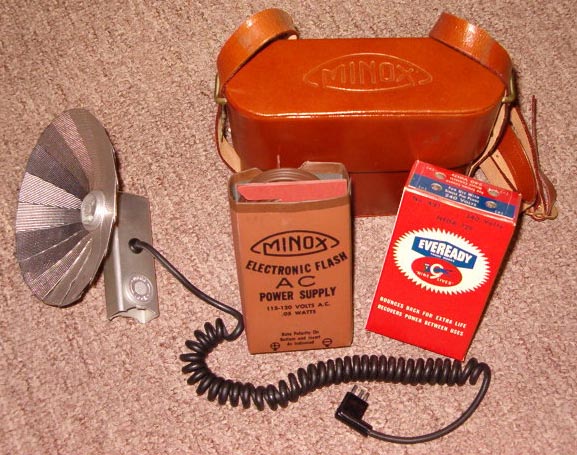 A 1959 brochure boasts "World's smallest, lightest and easiest-to-use electronic flash...weighs a mere 24 ounces. Can be carried over shoulder, and fits in a man's pocket or women's purse without dangling wires or cumbersome flash heads." This unit is a great set to find in nice shape. Apparently it was designed and made in the USA starting in the mid to late 1950's before any flash apparatus was available from Germany. The cost in 1959 was $82.50 plus $7.95 for the #491 240 volt battery or $4.95 for the AC adapter, both shown above. The fan-flash reflector ingeniously folds and the head stores in the top of the battery case for safekeeping. There was also a smaller, solid bowl reflector which was sold as a $2.50 option called the "high efficiency color reflector" which probably concentrated the light for the slower color films of the day. The attention to detail on this set in fantastic, right down to the embossed "MINOX" logo on the top of the case.
---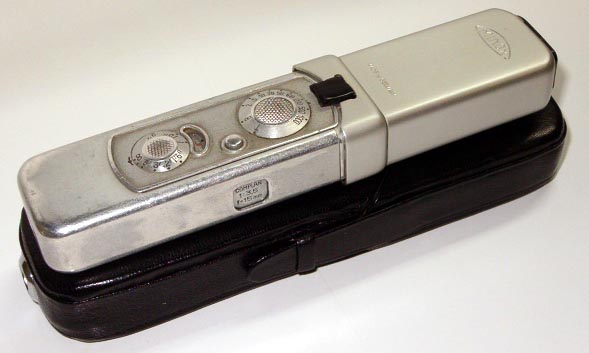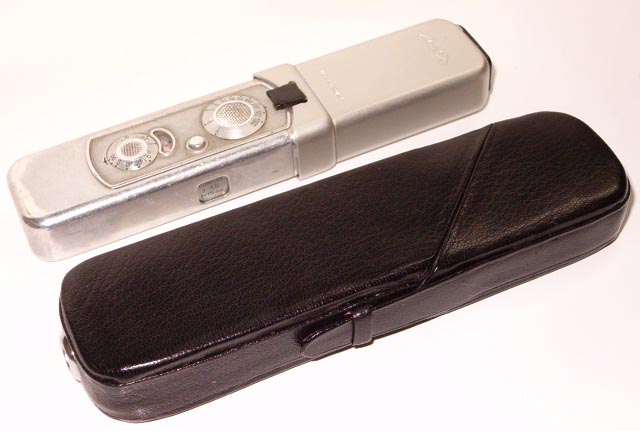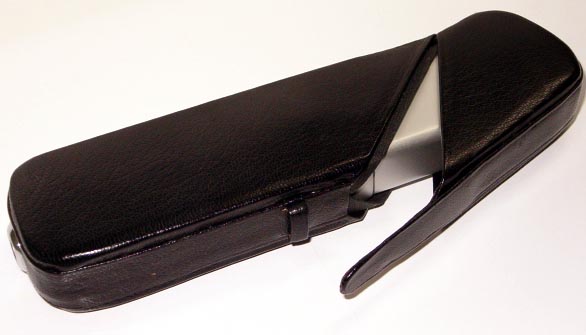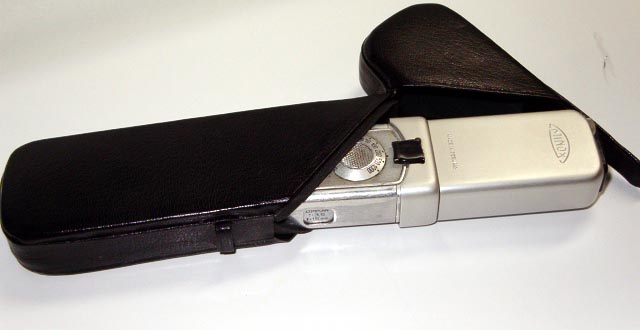 Pictured above is an unusual Minox black leather case which was apparently made to fit a IIIs camera with its flash attachment. It is identical in style to the "standard" case but long and wide enough to accommodate the flash. It is the same width and depth as a flash case, which is slightly larger than the camera case because the flash widens where it overlaps the camera end. Having never seen another like it I cannot tell if it was a custom made piece or one which was part of a limited production run. It is definitely factory made and uses the same materials and design as the standard case. It is complete with the chrome chain grommet and was in nearly perfect condition when I purchased it...another piece to add to the "you see something new all the time" story.
---
Minox 35 GL Clear Display Model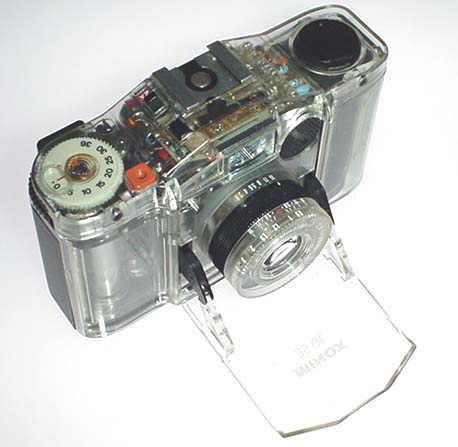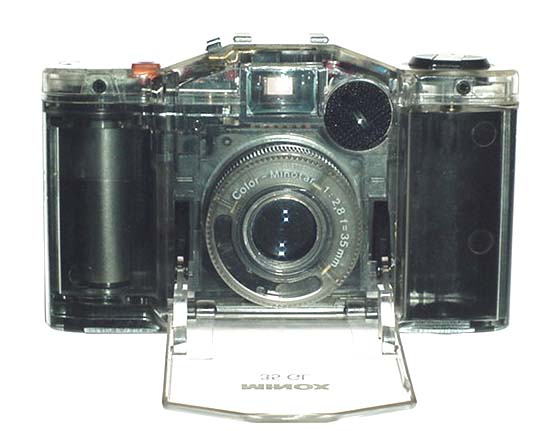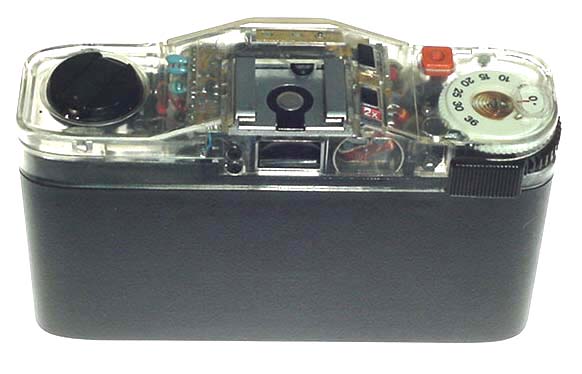 Here's a Minox 35 GL which was made in transparent plastic for display purposes. I think it was probably used at trade shows. I've seen one other of these which had a clear back too, but this one came to me with a standard black back. It's an interesting, rare piece and the only Minox 35 I own!
---
Minox A/II Clear Covered Display Model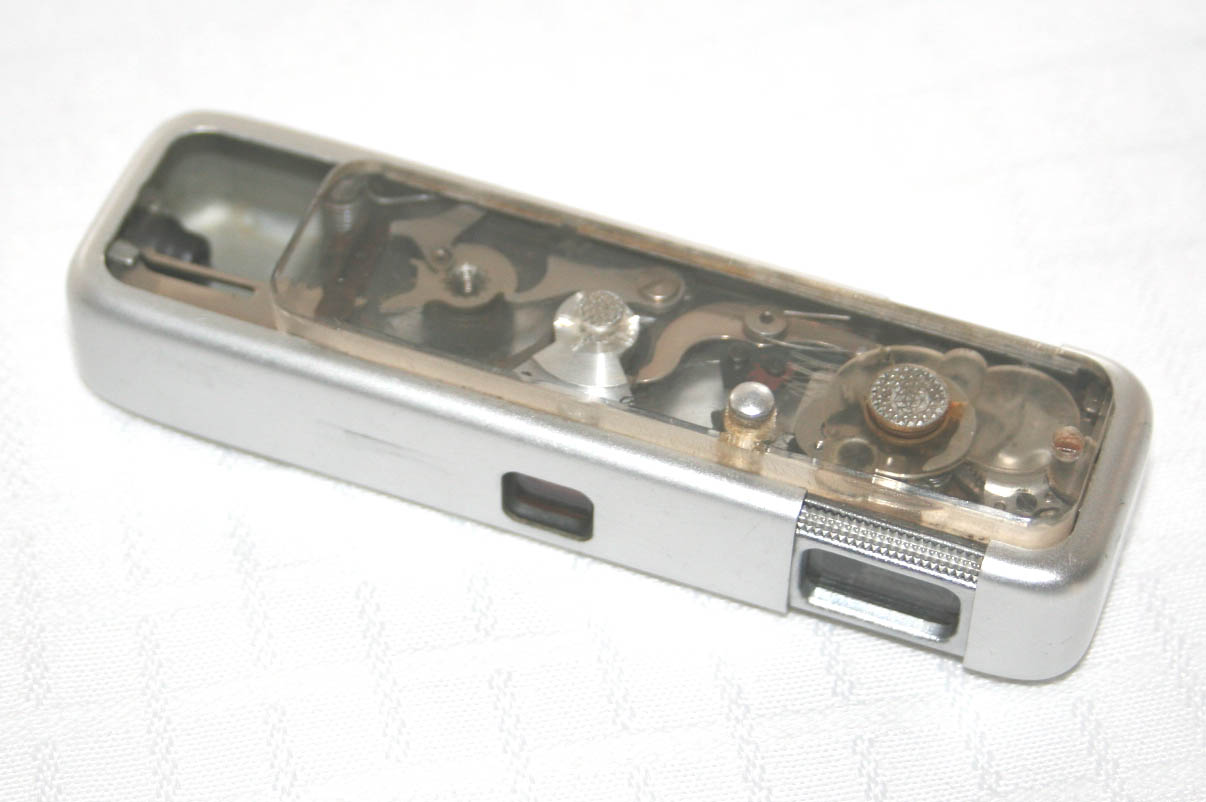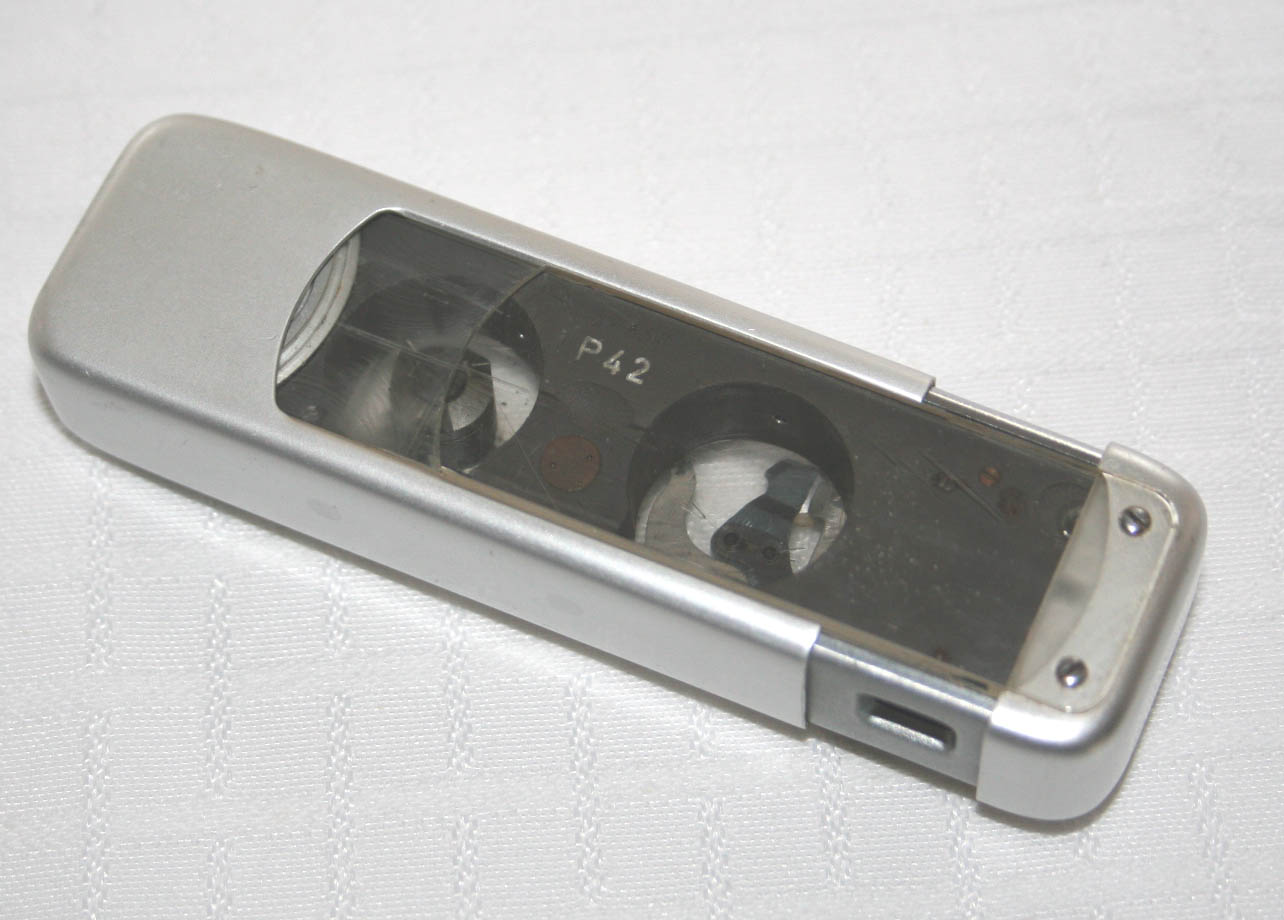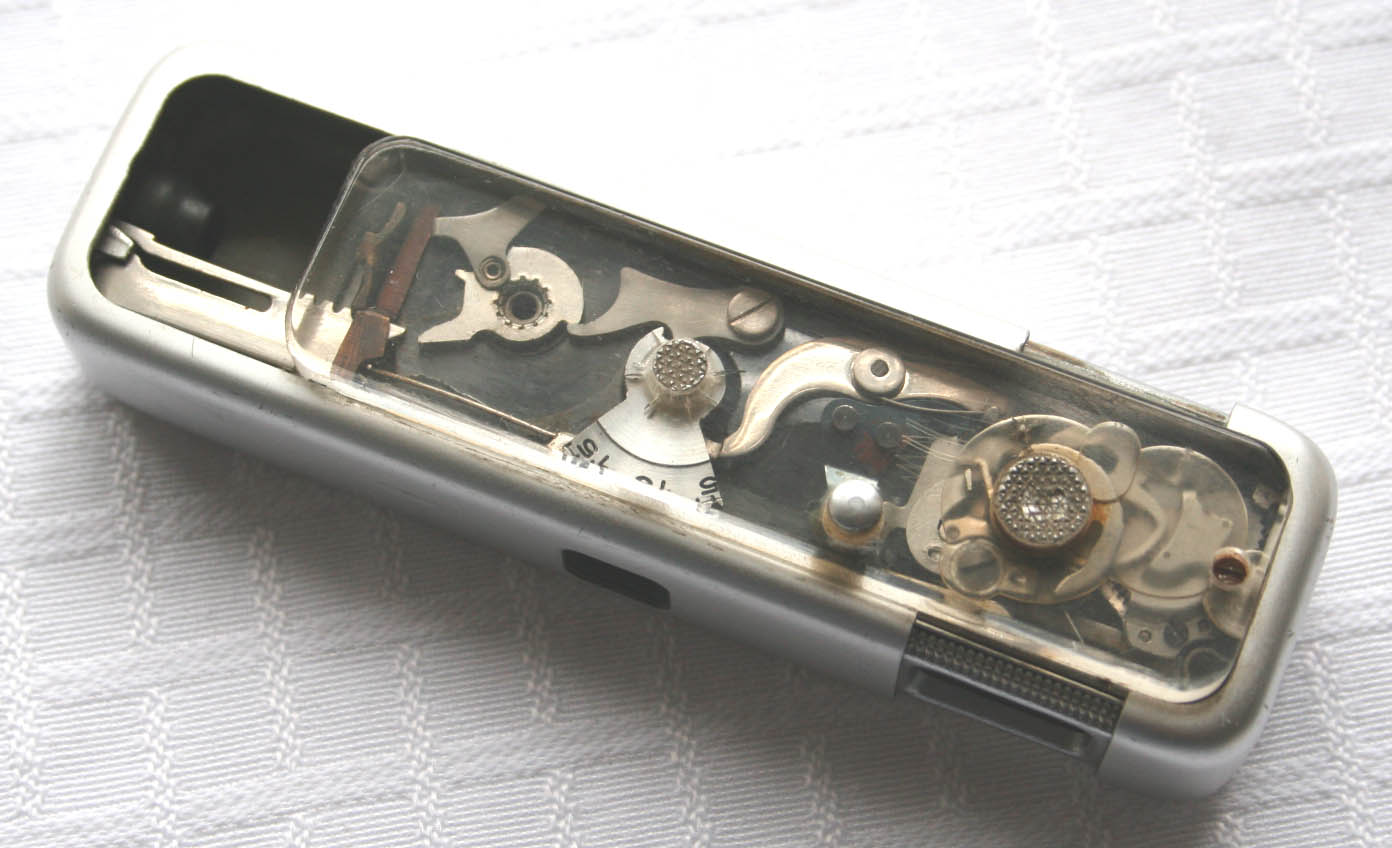 This is an extremely hard to find Minox item. It is a Minox A/II which was fitted with custom made machined plastic top and bottom covers to allow the camera's mechanism to be seen and still to function. It was based upon a late Minox II (Serial number is still in it and is #27 450) but was also engraved with special designation "P42". One just like this is pictured in Heckmann's book on Page 154. According to him there were 125 such clear-covered cameras made. This one was found at an auction in Koln, Germany. It is the only one I have ever seen come up for sale and I am very happy to add it to my collection.
---
Minox Memo Collection in Special Memo Binder (From Thayer Family)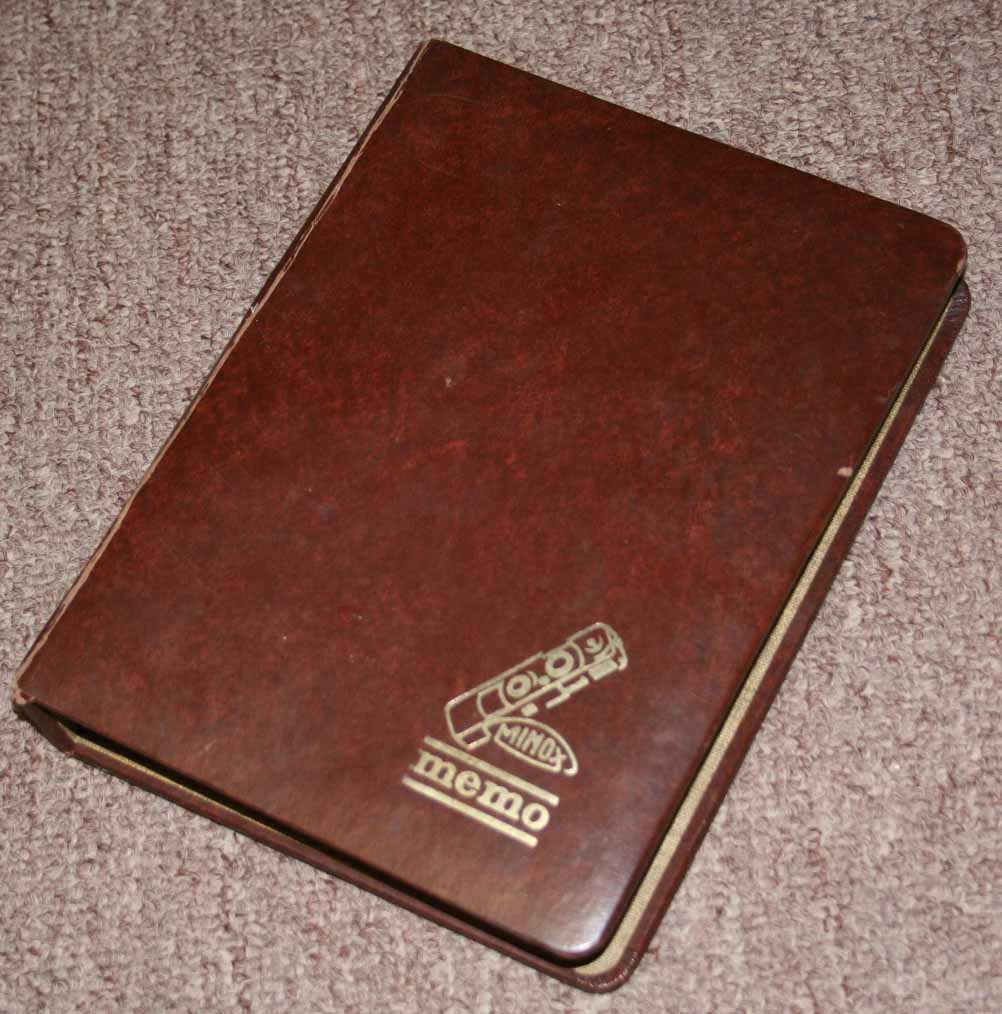 I was recently lucky enough to be offered this nice set of original Minox Memos from a member of the Thayer family. The set contains nearly every issue from the first edition in the Spring of 1956 through the Summer 1970 edition. The extra nice thing about it is that every issue is un-addressed (meaning it was never mailed). Most of them you find for sale have the addresses of the recipient stamped onto the back but as you can see in this photo these memos are unstamped making them even more rare.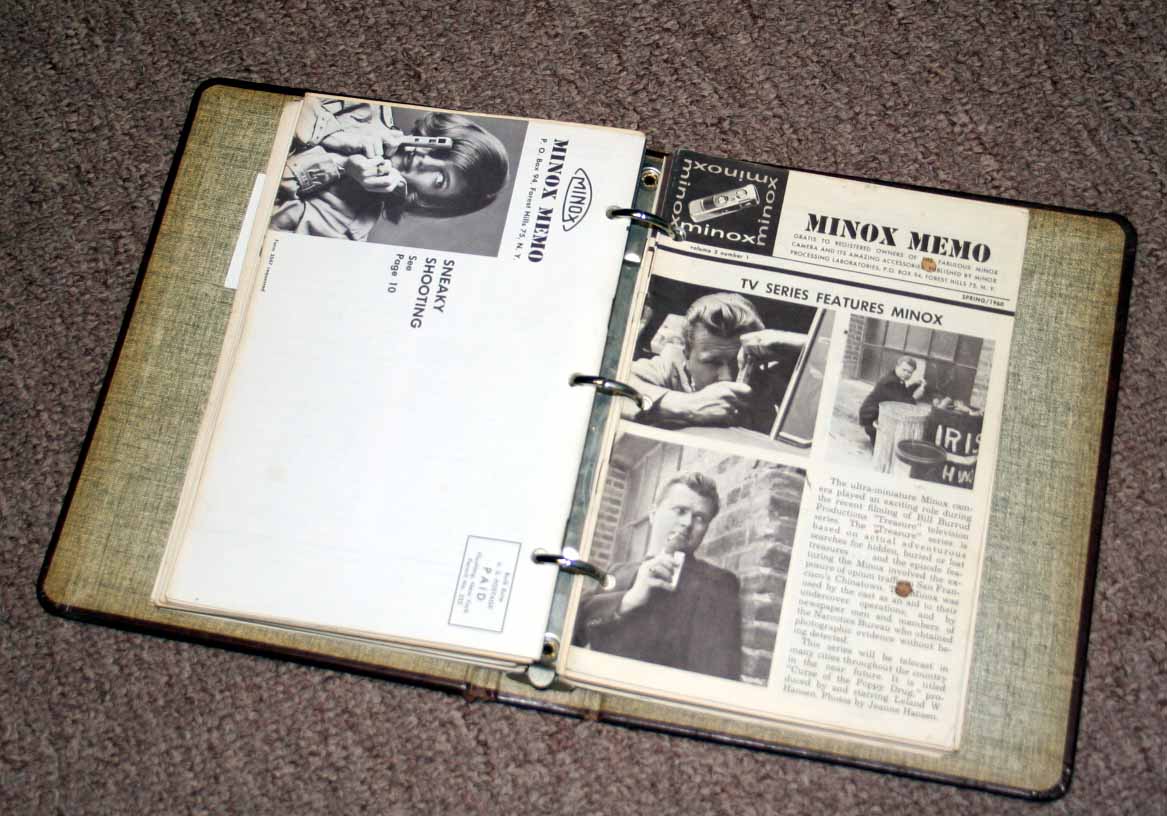 The memos are a great reference source as they were used not only to promote Minox products but also to announce the introduction of new models, accessories and variants so for a collector much of the information is very nice to have. It also gives you insight into the list prices for various items at the time of offering. If you find these for sale on eBay and are serious about collecting Minox items I would urge you to pick them up and get an entire collection.
As far as I know these are the issues that exist: Spring 1956 (first issue), Winter 1956/57, Spring 1957, Summer 1957, Fall 1957, Spring 1958, Summer 1958, Winter 1958, Summer 1959, Fall 1959, Winter 1959, Spring 1960, Summer 1960, Winter 1960, Spring 1961, Summer 1961, Winter 1961, Spring 1962, Summer 1962, Winter 1962, Spring 1963, Summer 1963, Winter 1963, Spring 1964, Winter 1964, Winter 1965, Summer 1970, Winter 1971, Fall 1972.
---
Minox III #33333 From the Thayer Family's Collection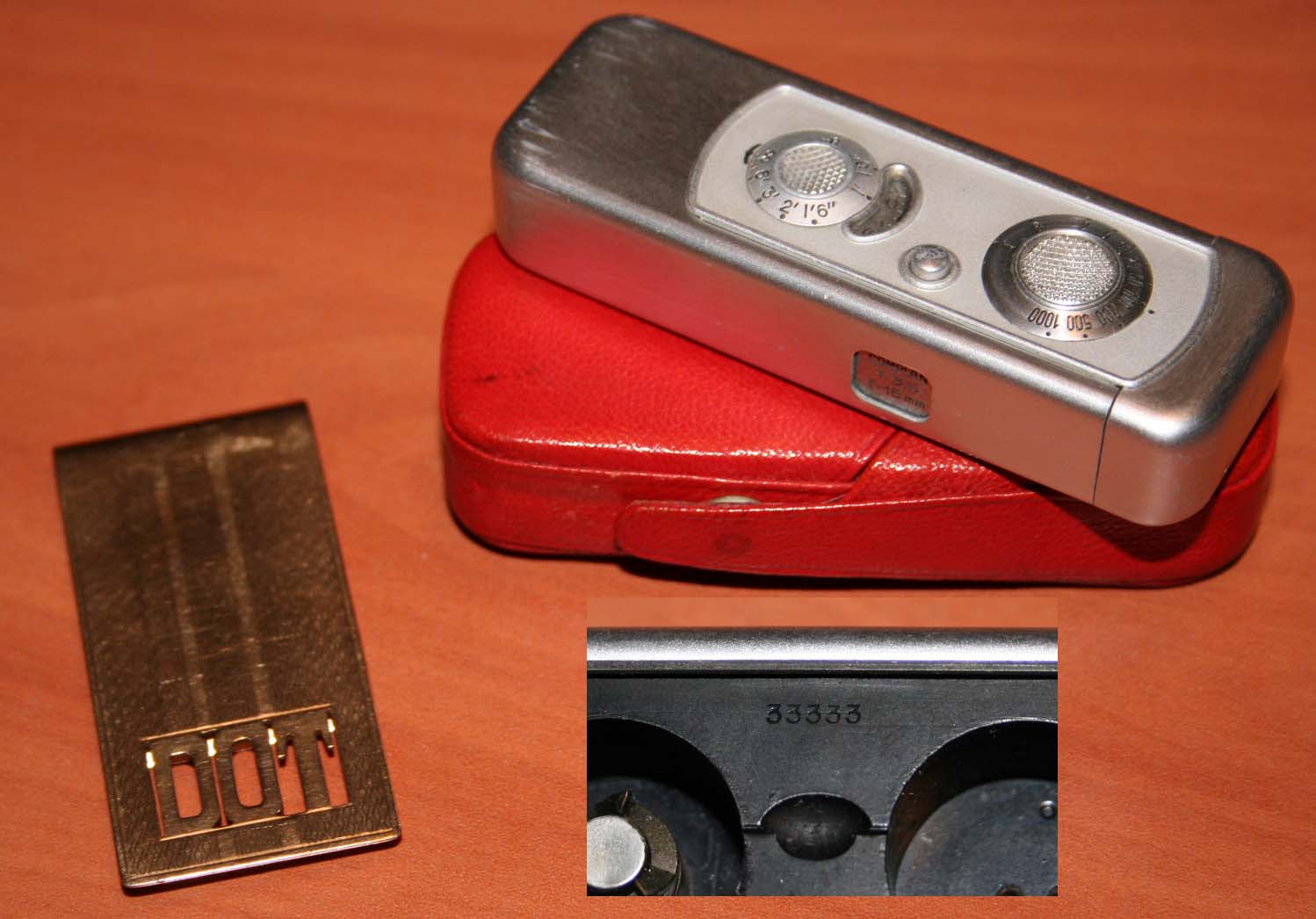 This is another unique piece from a member of the Thayer family. This Minox III, #33333 was originally given from Don Thayer Sr. to his son Michael as a gift upon his 13th birthday in April of 1961. It was originally kept in the family by the elder Thayer because of its unique serial number. I purchased it from Michael's son, Lee. It came to me with the 14k gold money clip which belonged to Donald Thayer Sr. (and which has his initials) which is a nice addition to the collection.
---
Minox Wetzlar "Model 1" Enlarger #515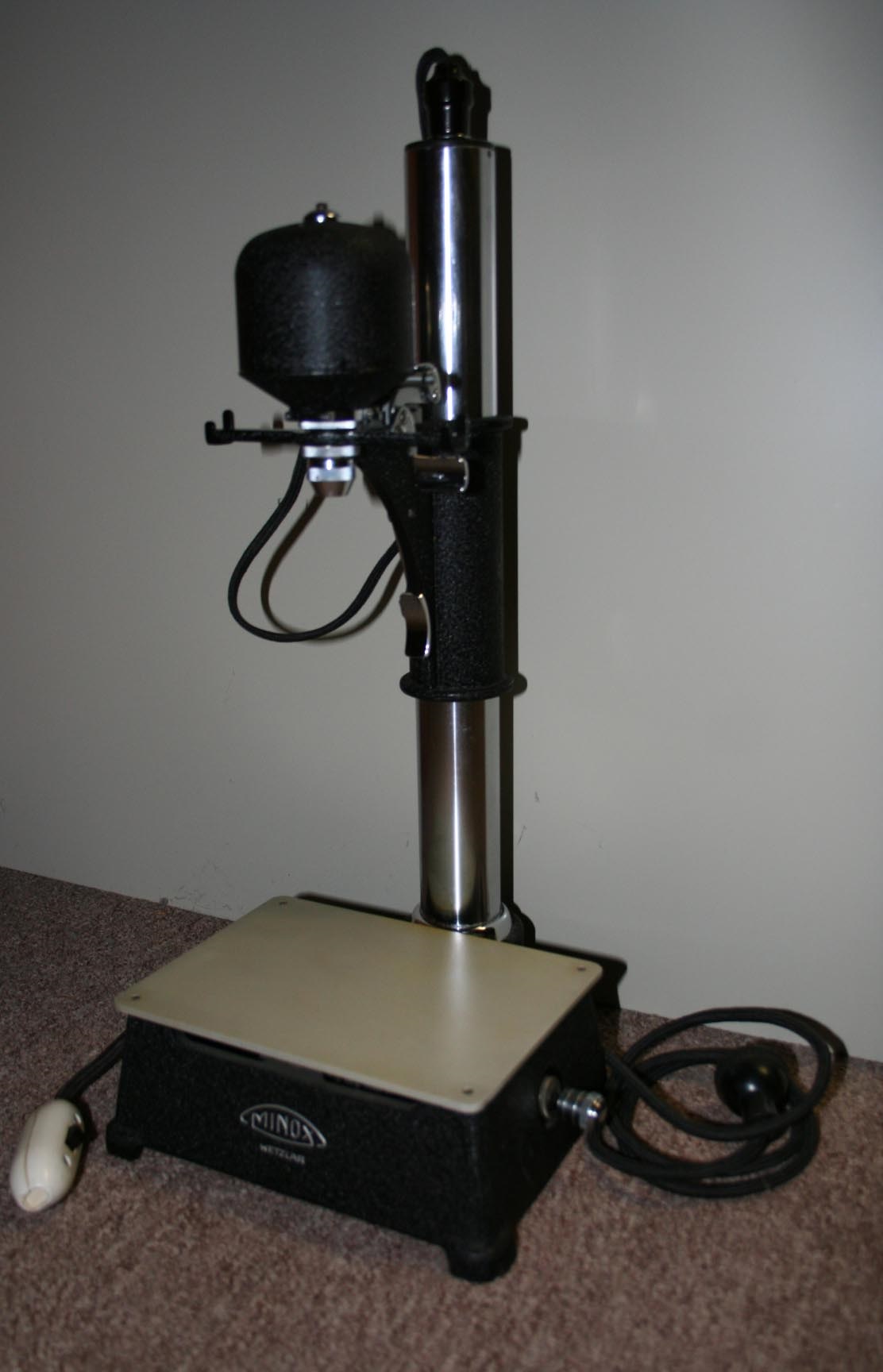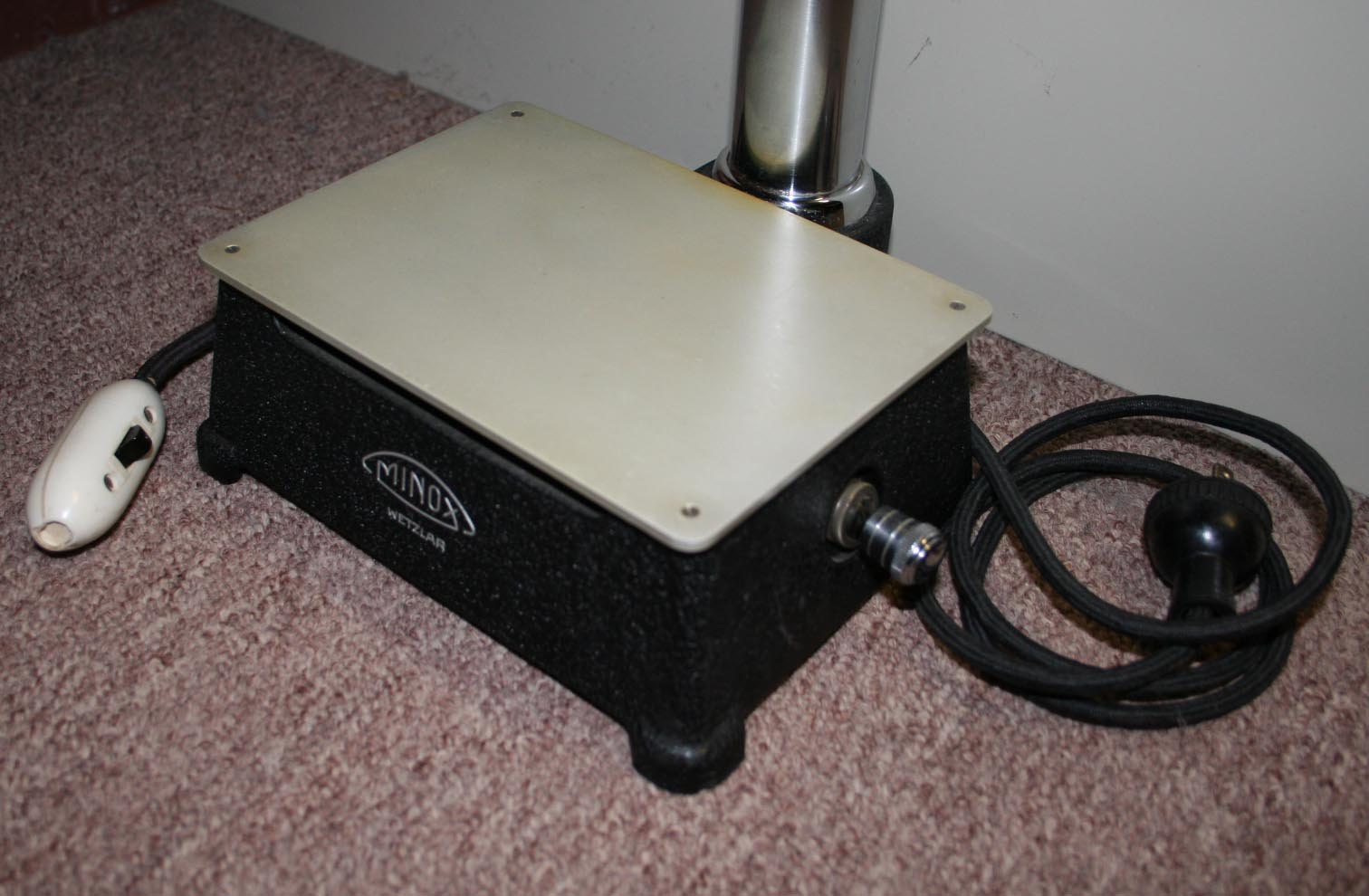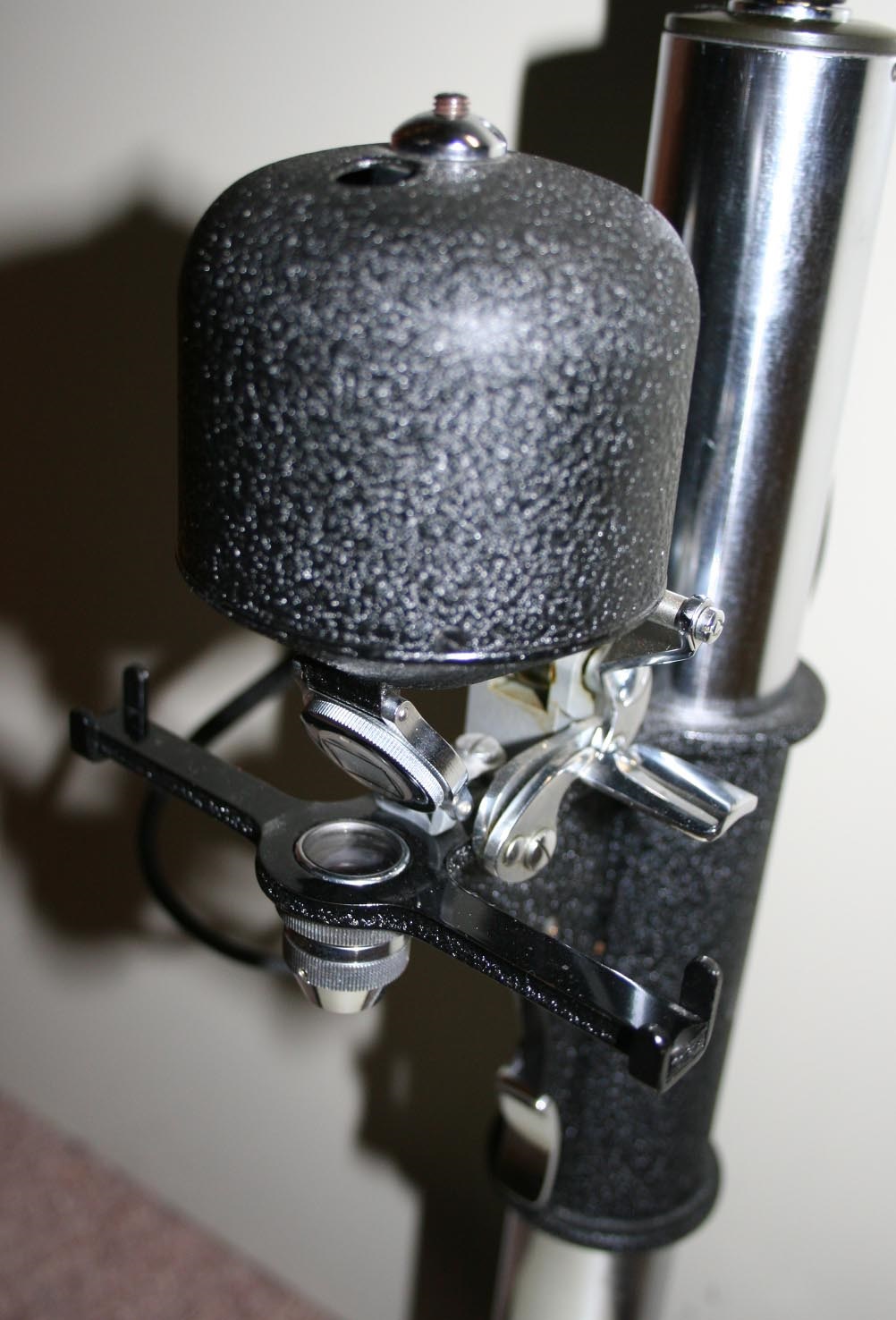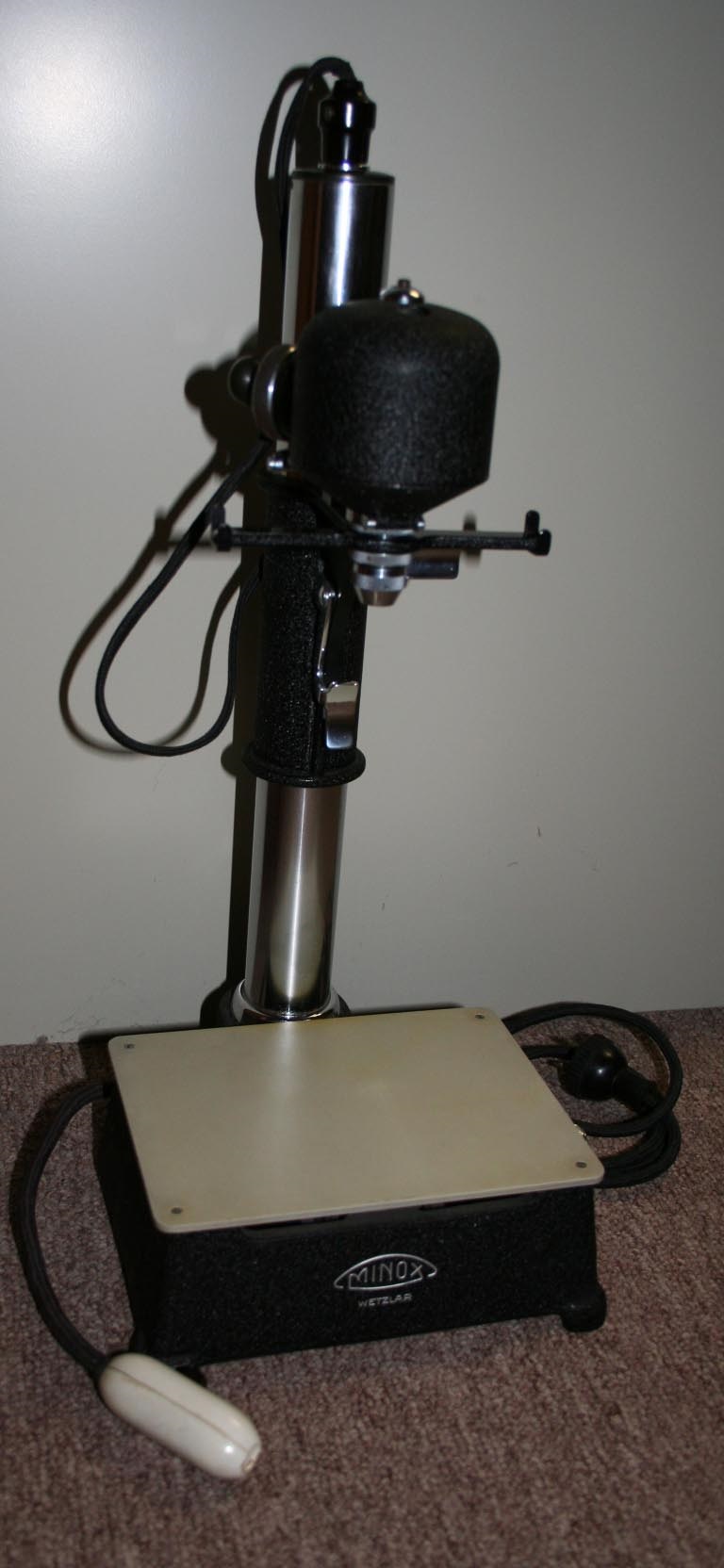 This is a seldom found enlarger commonly called the "Model 1" and was made for only about one year around 1950 and is much smaller than the "Model 2" and subsequent Minox enlargers. According to the Heckmann book the serial numbers for these started at 100 and ended at 791. This particular one is number 515 and is in near mint condition. It is much more like a scientific instrument than a mass-produced consumer good. Apparently they originally came with a set of fixed size easels, similar to "speed easels" which fit the base and allowed the user to print standard sized photos easily with borders produced around the edges. This particular one did not come to me with the easels but given its exceptional condition is an excellent collector's find.
The entire content of this site (text and photos) is Copyright (C) 2020 all rights reserved