Here are some photos and descriptions of modern Minox LX and AX limited edition sets. These are most likely going to be future collectables. Enjoy the tour!
CLX Limited Edition Gold Plated LX Selection Set LX 2000 Set Platinum LX Set LX Aviator Set
TLX Exclusiv Set LX 100 Year Commemorative Sets Gold Plated LX 1995 Set Gold Plated AX Black AX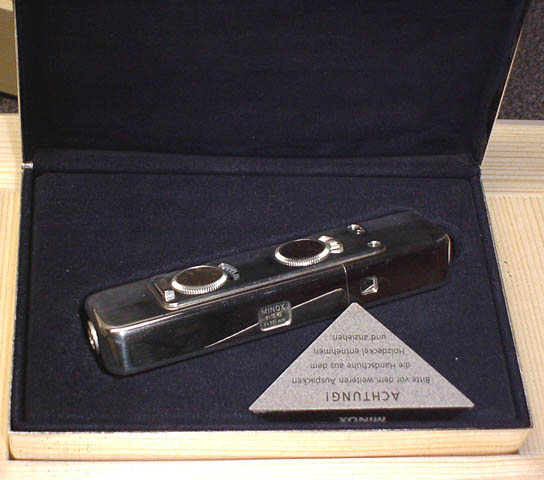 It's hard to take a good photo of this one because of its mirror finish. This camera is the only collectable Minox made from solid Sterling Silver. It was made in very limited numbers (this one is #11) with less than 100 pieces believed to exist. The set's packaging is as impressive as the camera itself. The camera is stored in a small silver box which is lined with anti-tarnish material. This box sits in a custom made softwood box which is housed in a high quality cardboard box. The wooden box has a platform for the camera box and under the platform is stored the case, sterling silver chain and paperwork including the certificate of authenticity. There is even a hole bored out of the wood to hold the (now extinct) PX-27 battery. Suspended in the lid of the softwood box is a pair of white cotton gloves which are intended to minimize the effects of fingerprints on its finish! A great collector's item but not very practical for use.
Top
---
Gold Plated Minox LX "Selection" Set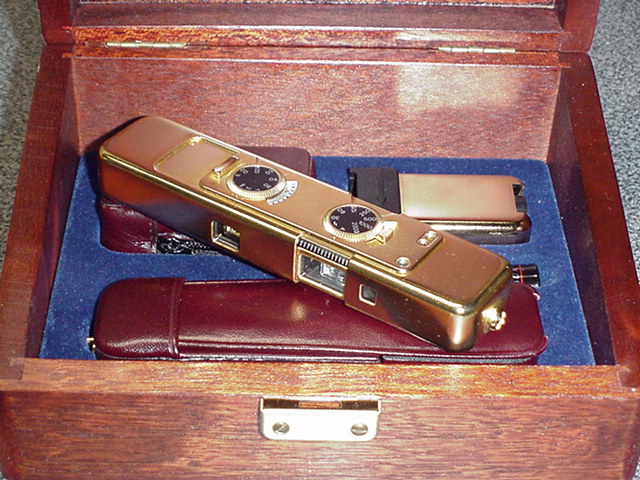 This is one of Minox's first "collector's sets". It was issued in 1987 when 999 sets were made. The set consisted of a gold plated LX camera, matching gold plated flashcube attachment, burgundy leather cases for each, a gold plated measuring chain and batteries housed in a custom made wooden case. The paperwork includes a numbered certificate of authenticity. I have seen several of these sets with plating problems (plating which is peeling away from the base metal) which leads me to conclude that the technology of plating gold onto an aluminum shell was not really perfected or the process for making these cameras had poor quality control. That, combined with the relatively high number of these sets produced has lead to a decline in prices recently. Just a few years ago these sets would routinely sell for $2000 or more, now they are selling for half that or less.
---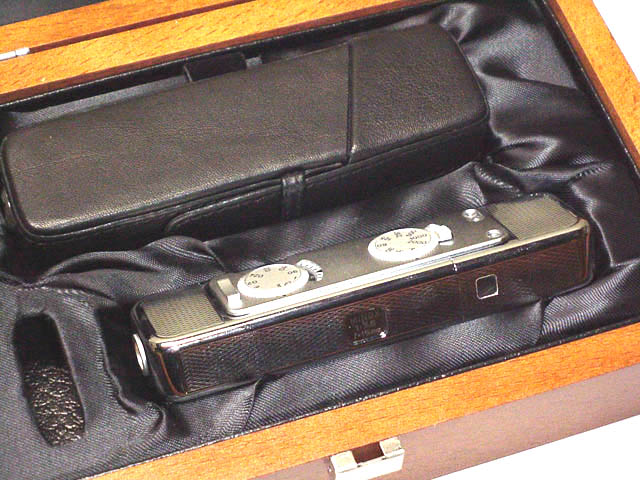 I like the CLX's finish. It's reminiscent of the gold plated A cameras but with bright chrome over the brass body. This is one of the early limited edition sets which came in a wooden presentation case and also included a video of Walter Zapp and his life with the Minox camera. It's a nice set but hard to find today.
Top
---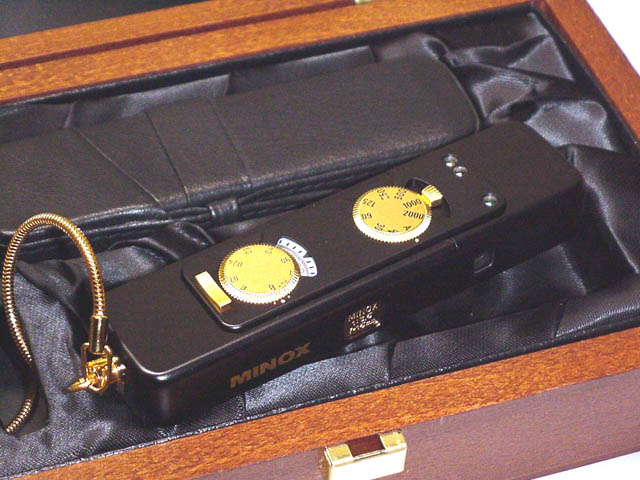 This set was introduced for the millennium and included a limited edition Mont Blanc Wolfgang Amadeus Mozart edition fountain pen (in itself a collector's item). It's a black LX with gold controls and accents. A little flashy, but not too over-the top.
Top
---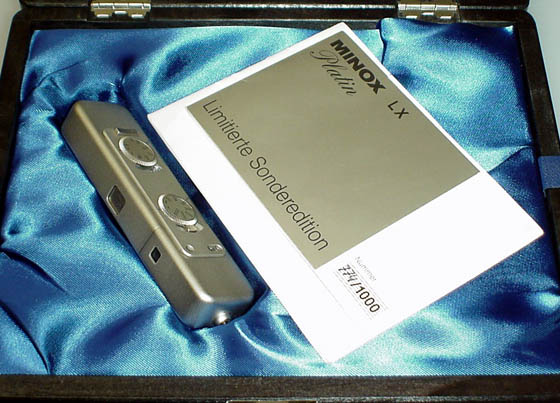 This camera is a brass bodied LX which is coated with a platinum coating (fancy word for a paint process) and is not really made of platinum as the name implies. It's an interesting variant, but not one of my favorites. The set includes a case, chain and paperwork in a ebonized wooden presentation case.
Top
---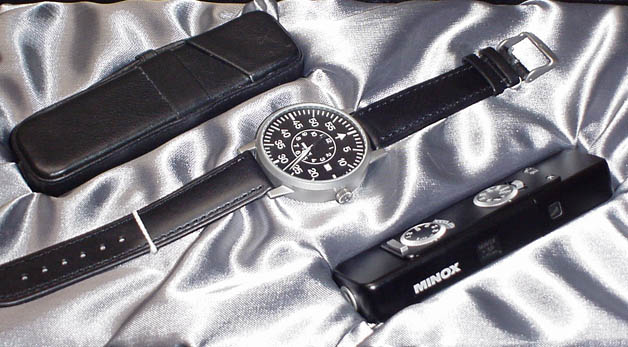 This set was introduced in late 2001 and includes a limited edition black LX with chrome controls and a chrome tripod socket. This set includes a very nice, very large Erich Lacher Laco Aviator calendar watch which has the Minox logo on the dial. The watch alone usually sells for about $350. The watch is a reproduction of a Laco Aviator's watch from WWII. Interestingly, the dial markings on this camera are written in luminous paint and glow in the dark, presumably to match the watch. This is another of the "designer" sets which are of interest primarily to collectors, and an interesting variant worth mentioning.
---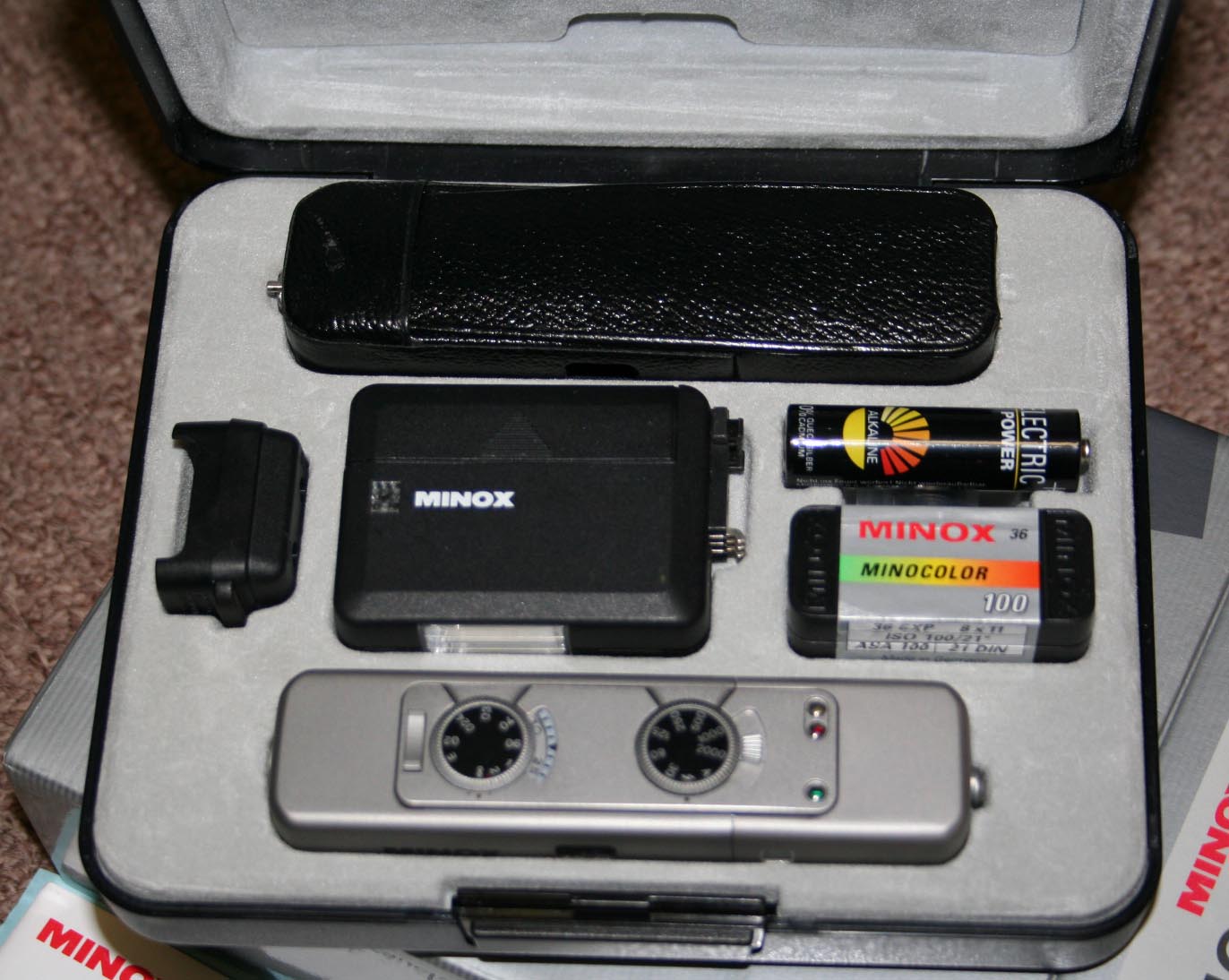 This set was sold several years ago and included a TLX camera with case and chain, 8X11 flash with adapter and Minox tripod all housed in a nice compartmentalized locking aluminum attaché case as shown. It was sold as a "premium" set and one which does not appear on the market very often.
---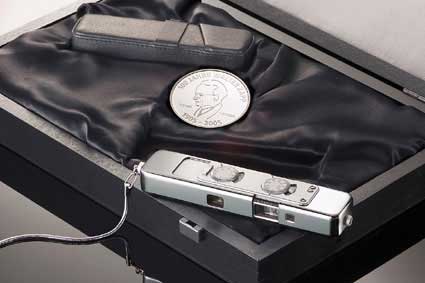 This set was introduced in late 2005 and includes a limited mirror-polished chrome LX with brushed chrome controls. This set includes a very nice, silver coin bearing the likeness of Walter Zapp and commemorates the 100th anniversary of his birth. This is another of the "designer" sets which are of interest primarily to collectors, and an interesting variant worth mentioning.
---
This set was issued in 1995 to commemorate the 50 year anniversary of Minox in Germany. It consisted of the camera, case, chain, papers (which include a certificate of authenticity), wooden presentation box and outer cardboard box as shown. It is limited to 250 pieces. The finish is identical to the early gold plated A and B cameras, being plating over a brass shell with a fancy machine-turned design. It is a much nicer and rarer set than the selection set shown above.
---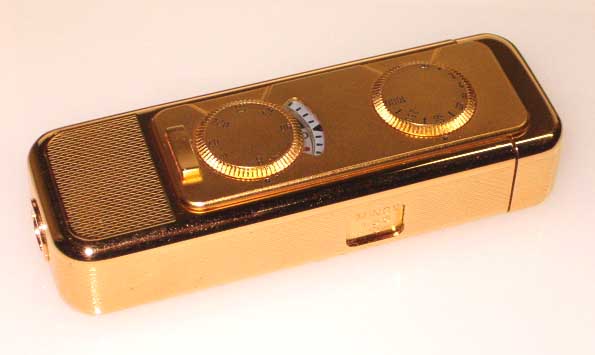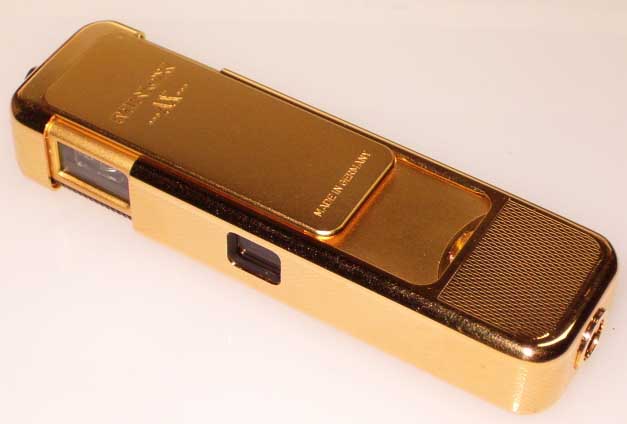 The AX series was a re-issue of the mechanical Minox A (IIIs) with some updated styling to match the LX in terms of its control dials, shutter release and the shape of the top and bottom plates. There were a total of 4 series of AX cameras; the silver-chrome (500 pieces - 1992), Gold I (Pictured above, 250 pieces 1994), Gold II (Identical to Gold I except in commemoration of the 50th anniversary of Minox it includes a special engraving on the bottom with Walter Zapp's signature, 250 pieces - 1995) and the Black (222 pieces - 1997). The gold plated sets had the most lavish packaging which included polished rosewood boxes (2 different styles for both series) while the silver-chrome set had an interesting particle board box with a sliding lid and the black set had the standard "LX" style clamshell box (early ones were also seen packaged with leftover rosewood boxes but those soon were depleted). Due to the limited number of AX cameras produced most people who buy them keep them for collectables instead of using them, especially the gold models which were very costly (list price around $2800).
---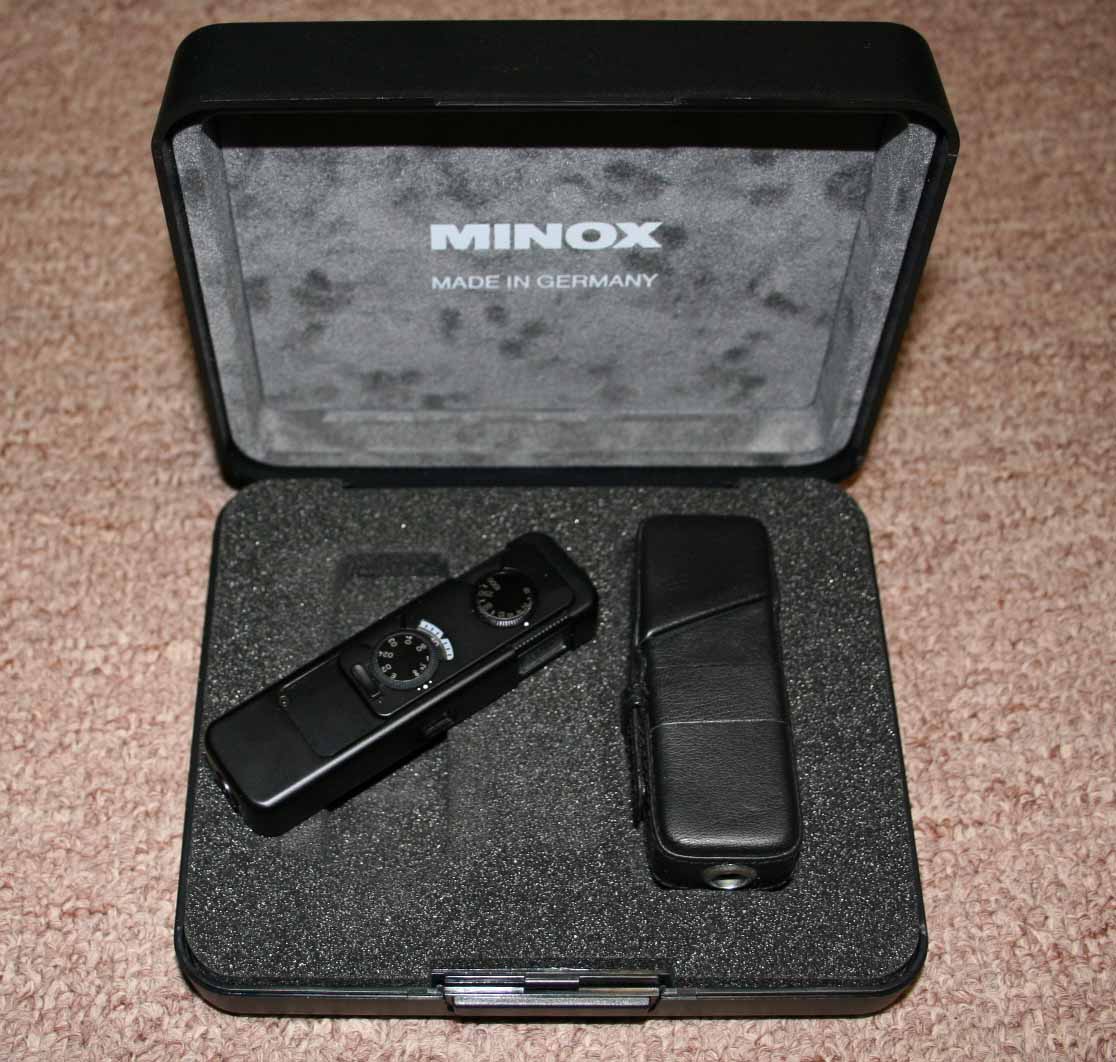 The black AX was produced around 1999 and was made in very limited numbers (222 pieces). All of the cameras I have seen are metric scaled and this is one of the few sets Minox produced which did not come with an outer cardboard box, only the plastic presentation case as shown in this photo. The paperwork was hidden under the panel printed with "Minox - Made in Germany" in the top of the case. The set came with the camera, case, black chain, paperwork and presentation case. The presentation case has two labels on the outside, one with the UPC bar code which prove that it was the only box this set came with.
The entire content of this site (text and photos) is © 2007, all rights reserved