I have been a photography enthusiast for about 25 years since I was a teenager growing up on Long Island in New York. I worked through High School at a local camera store in Port Washington, New York and it was there that I first was introduced to photography and Minox cameras. After college (BSME from Polytechnic Institute of NY) I stopped being interested in hobbies like photography in order to concentrate on my career and social activities. It was not until about 1995 when I was able to justify buying some Minox cameras not only to use, but to collect. I guess it is my background as a mechanical engineer which attracted me to their design, which can only be classified as "ingenious" and ergonomically perfect.
Here's a way-too-close-up self-portrait of my ugly mug taken in September 2001 with a Minox IIIs camera: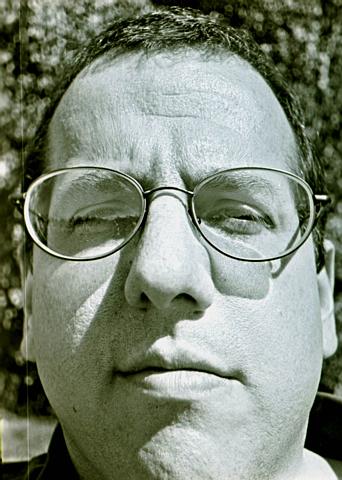 As I got more and more serious about collecting the variants of the camera models I also got curious about exactly how they worked and if it would be possible to open one up and study it from the inside. Finally, I jumped into one...a Model B as I recall, and, needless to say, it was a lesson in what NOT to do! I've since discovered some useful articles on Minox Repair and have posted them for all to see. You'll find some links to them from my home page. Now, I live in peaceful New Hampshire with my wife and daughter. Just FYI, I don't earn my living from Minox stuff, I am the owner of a Real Estate Appraisal and Consulting Firm.
In addition to cameras and all things mechanical I am also a car enthusiast too. Here are some photos of some of my recent "money pits":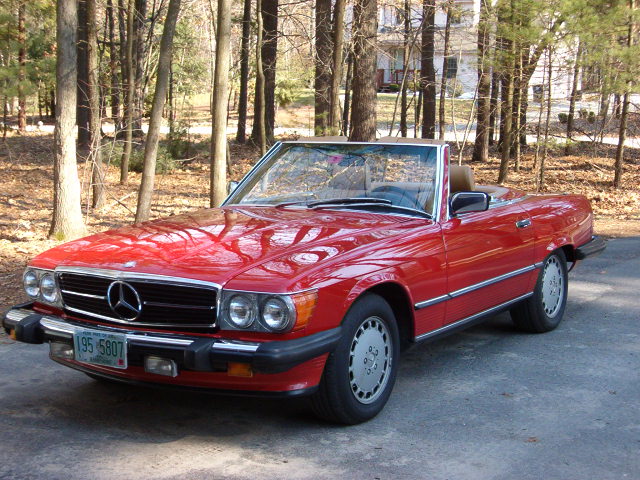 And here's a shot with the soft-top up: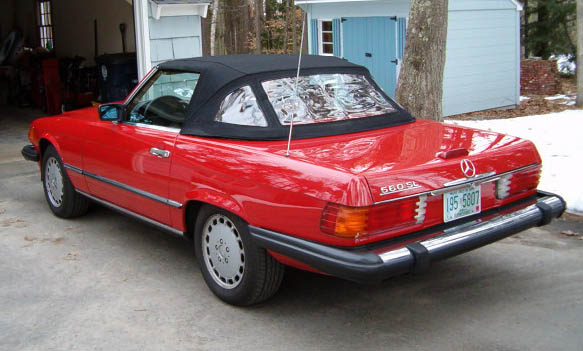 It's a classic 1988 Mercedes Benz 560SL with signal red paint and palomino leather interior which I "adopted" in the fall of 2004. For a 1988 model year car it was fairly advanced having both ABS brakes and a driver's side airbag. Of course it has the smooth and powerful Mercedes 117, a 5.6 litre OHC Bosch fuel injected V8 engine driving a 4 speed automatic transmission and has more power than it has a right to have given its size. It's the same powertrain Mercedes used to drive the the oversized 560SEL 4 door sedan!
It has an interesting history which I have traced all the way back to the factory where apparently it was a Mercedes "company service car" used in Germany until it had approximately 626 miles on it and was shipped to the USA and sold to the owner of a Pennsylvania manufacturing firm by Keenan Motors in Doylestown Pennsylvania on February 17, 1989 with 647 miles on it. Its full price topped out at a WHOPPING $63,513 including a $1300 gas guzzler tax.
It was sold back to Keenan Motors by its original owner in 1992 and sold by Keenan on July 11, 1992 to a woman in the same area with 57,000 miles on it. That lady kept it until June of 2001 when it had 103, 971 miles and landed up at a used car dealer in Manchester, NH where it was sold in August of 2001 with 104,082 miles to a man from Weare, NH. That owner had it for 3 years and traded it back to the same dealer he bought it from on May 13, 2004 when it had only 108,026 miles on it. During his three years of ownership, that owner put about $3500 into the car including a new soft top and all significant repairs needed were done. It sold on June 11, 2004 with 108,103 miles to a man from Milford, NH who bought it and it just wasn't for him, so I took off his hands on September 30, 2004 with about 108,500 miles on it.
I've spent a good deal of time researching its ownership and maintenance history and now have just about all of the service records to the most recent service which was done on it and even the original window sticker. There's not a trace of rust anywhere on it and it probably spent most of the time garaged. I've done some work to the fuel injection system on it myself and just had the timing chain, guides and tensioner and motor mounts replaced which has now restored the engine to start, run and idle beautifully...here's a shot of the interior: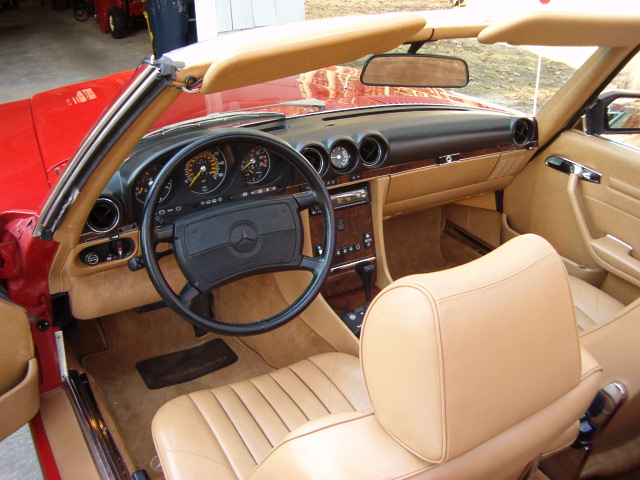 It's now ready for spring and I can't wait for the weather to improve so I can put the soft-top down and enjoy it. It came complete with its matching hardtop and a carrier-cart for it that is now stored away in my garage. It's really not very practical to use the hardtop for anything other than seasonal use as it is a two-person job to remove and replace it weighing in at about 100 lbs or so! But then, everything about this car is impractical. Think about what $63,513 in 1988 was worth! I think you could have bought a small house for that!
But to SL enthusiasts...everything else is "just a Mercedes".
The "Blue Baron" is a 1984 300CD Turbo Diesel Coupe finished in Midnight Blue with Palomino MB Tex interior. I don't know too much about its history but I think it was a northeastern car its whole life. It did come with some service records and its original window sticker, that's a nice bonus. I bought it from a man in Braintree Massachusetts in late 2006 on impulse. In remarkable shape for a car with 225K miles on it. It is still peppy, everything on it functions and the body is remarkably free from rust or rot. The turbo coupe is a relatively rare car, only being made from 1983-85. I love the pillar-less style of it and have always wanted one of these to run around town in. To me, this color combination is classic Benz.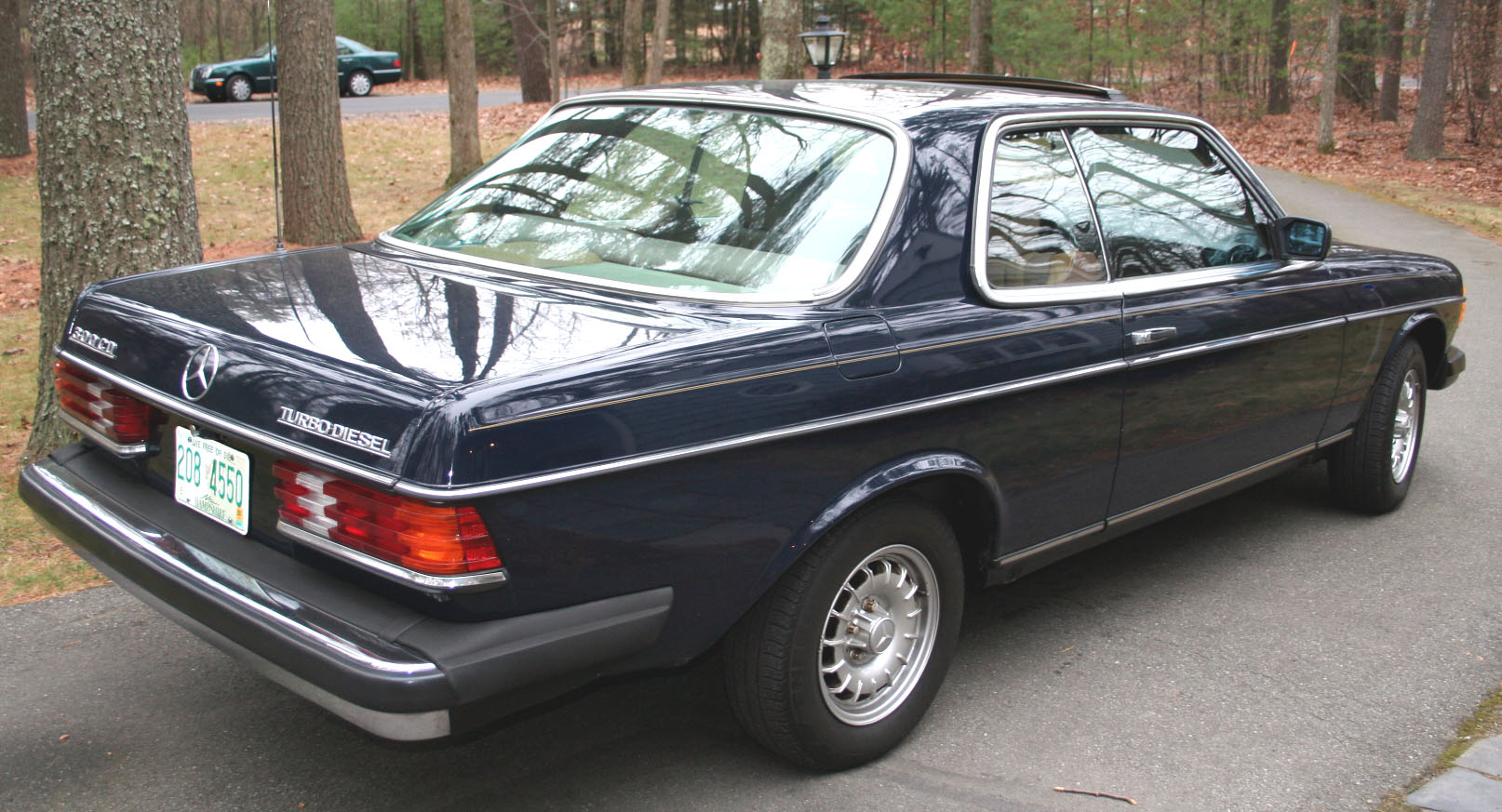 I had bought this little classic in the Fall of 2005: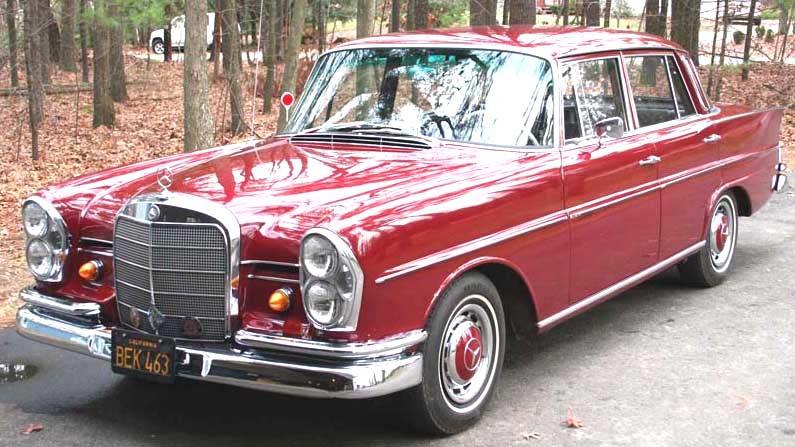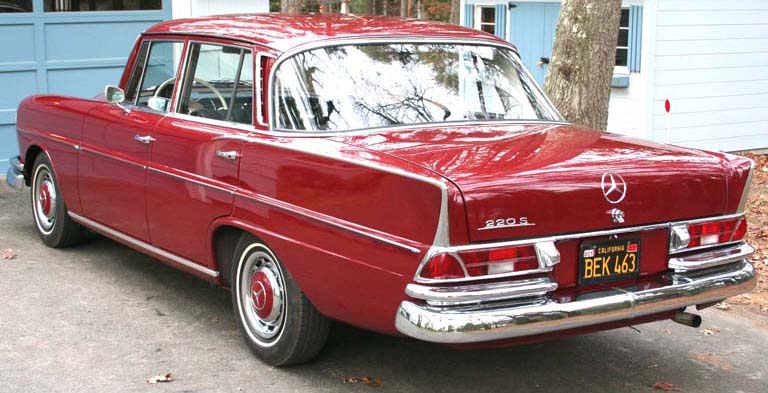 This is a 1964 Mercedes 220s "Fintail" sedan. Look at all that chrome! It was an original "California car" and when I bought it the car was transported with the license plates from 1964 right on it as you can see. It's original color is called "Medium Red" and the interior is "Kaviar" (black) MB-Tex (Vinyl). It was "born" on July 31, 1964 and sold originally to a physician in northern California late in that year. The original owner reportedly ran into financial problems and sold the car after only 2 years. The man I bought it from bought it second hand in 1966 and until it was sold to me in 2005 was his own "pride and joy". It had about 134,000 original miles on it and as you can see is in magnificent shape and completely rust-free. It's a 4-Speed manual transmission on the column with a straight 6 cylinder engine that delivers about 115 HP and has a top speed of just over 100 MPH. The car is nearly completely stock except for the aftermarket air conditioner which was installed by the prior owner, who ran a radiator and air conditioning repair shop outside San Francisco until he retired. He was apparently very particular about maintaining the car as nearly everything functioned properly when I bought it.
Look at a close-up shot the stack of renewal stickers on the back plate showing more than 40 years of care: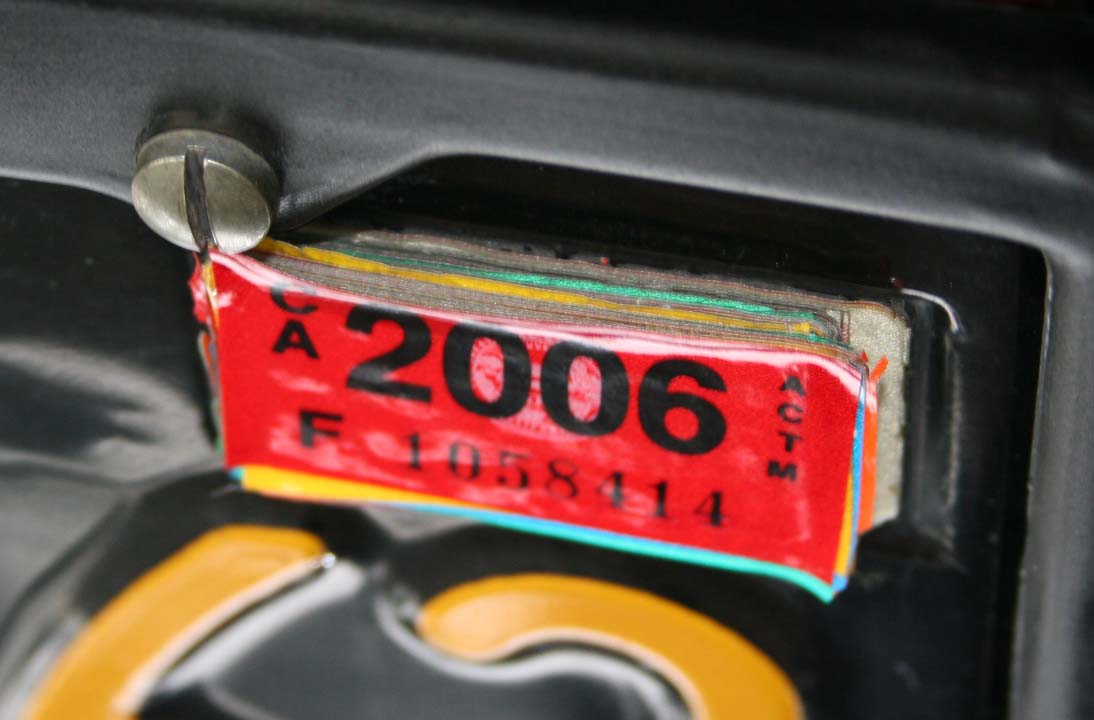 Here's a couple of shots of the interior: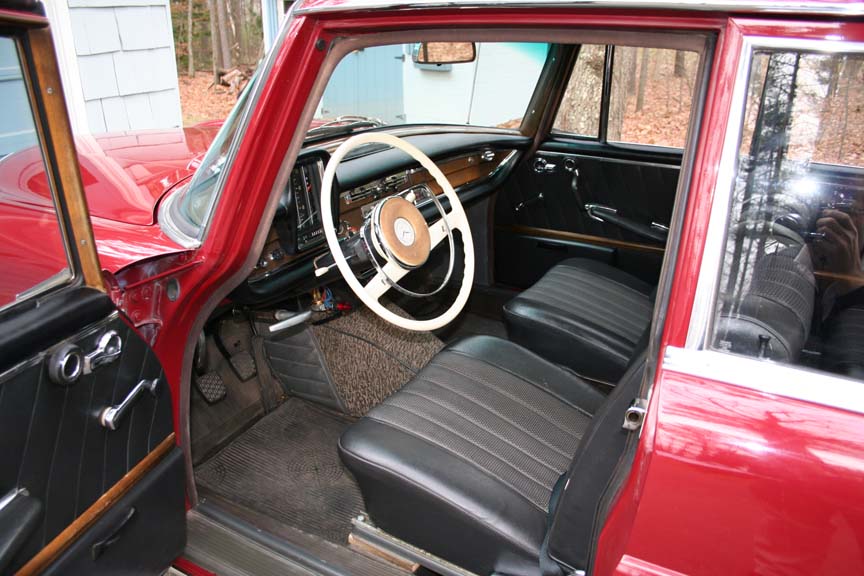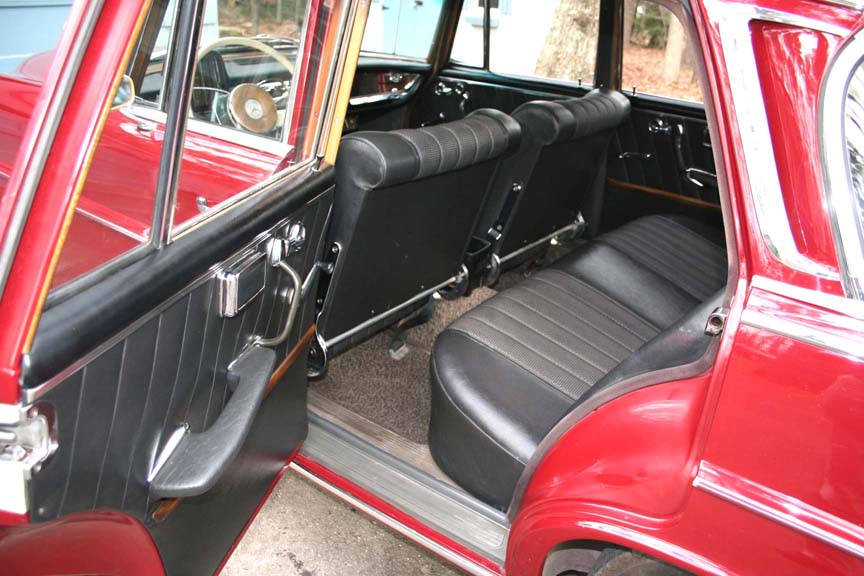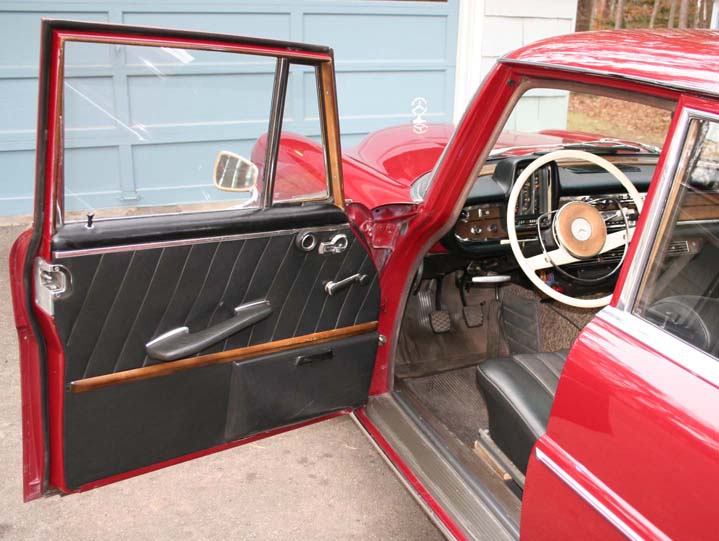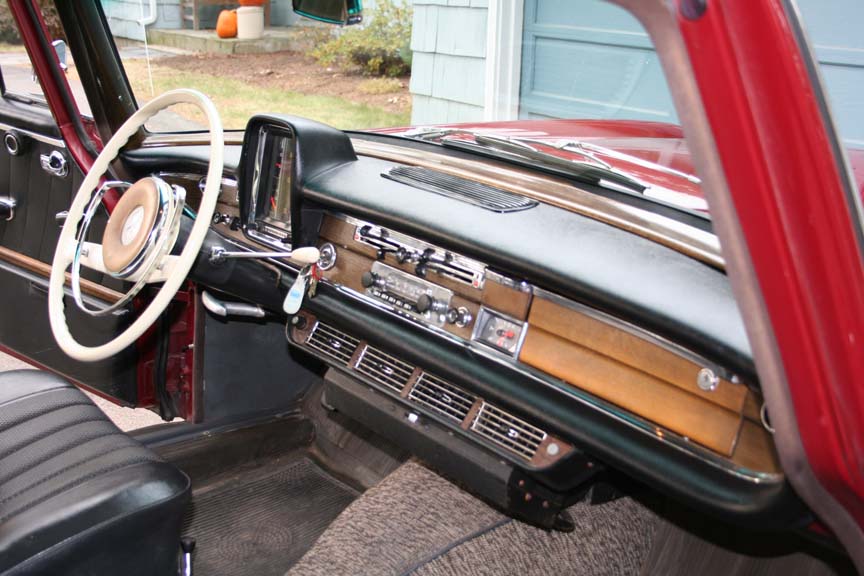 Here's one peek under the hood: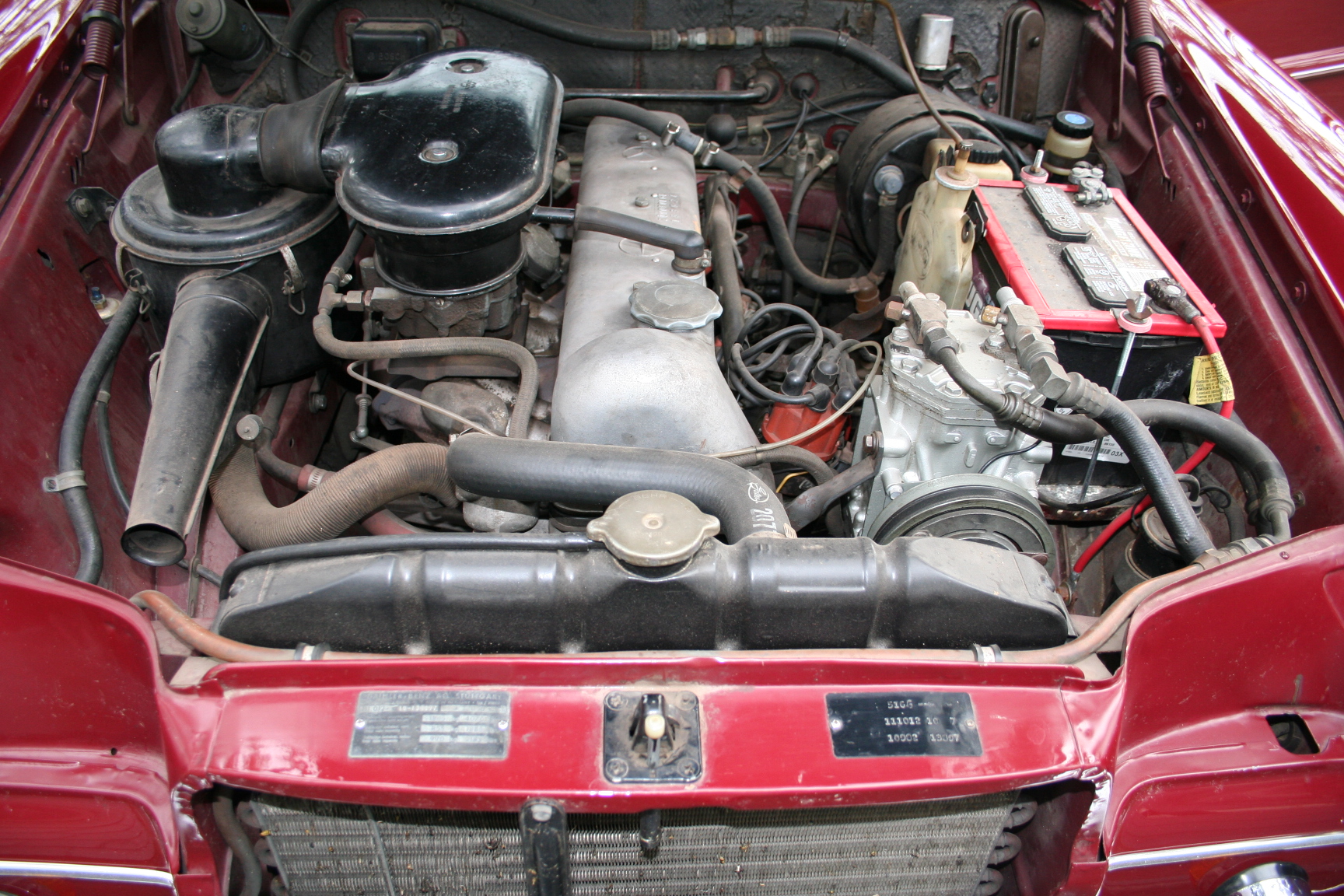 Other than just being a little dusty it is all pretty much as it was since 1964!
---
Update to this story:
In late 2007 I sold my red 220Sb to a nice gentleman from Germany who brought it home for its "retirement years".
Here are some photos of it taken in early 2008 with its new "eyes" (euro headlights needed to register in Germany). Note the presence of the New Hampshire inspection sticker still in the windshield!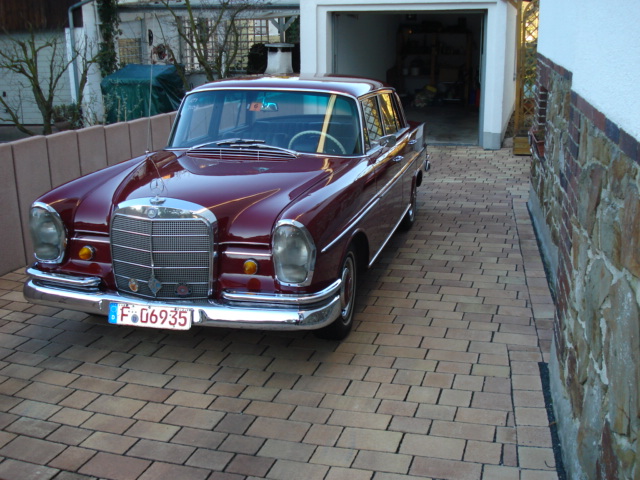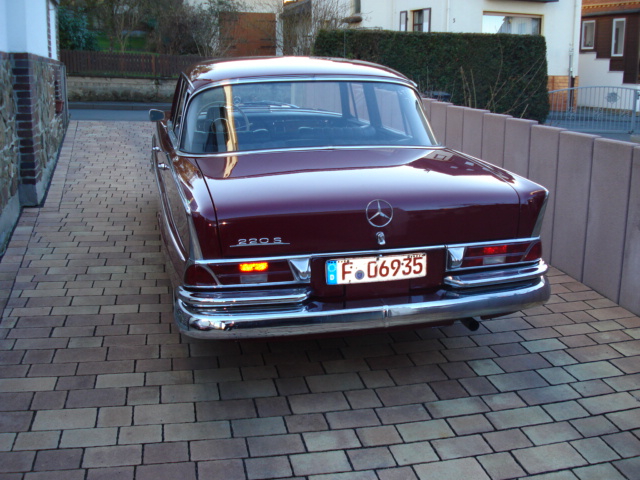 ---
My latest find is a somewhat rare 1979 300SD Turbo Diesel. The W116 chassis, as it is known in M-B world, was a popular platform for the gasoline engine but was only made in a diesel version for three years (1978-1980) and only for the North American market which makes it a rare car. The top-of-the-line diesel cost nearly $30,000 in 1979. This one features an in dash Becker Mexico cassette deck as well as power sunroof which were about the only options available.
I bought this one from the son of its original owner in November of 2007. The car had 127,000 miles on it and was very well kept. The interior is practically like new.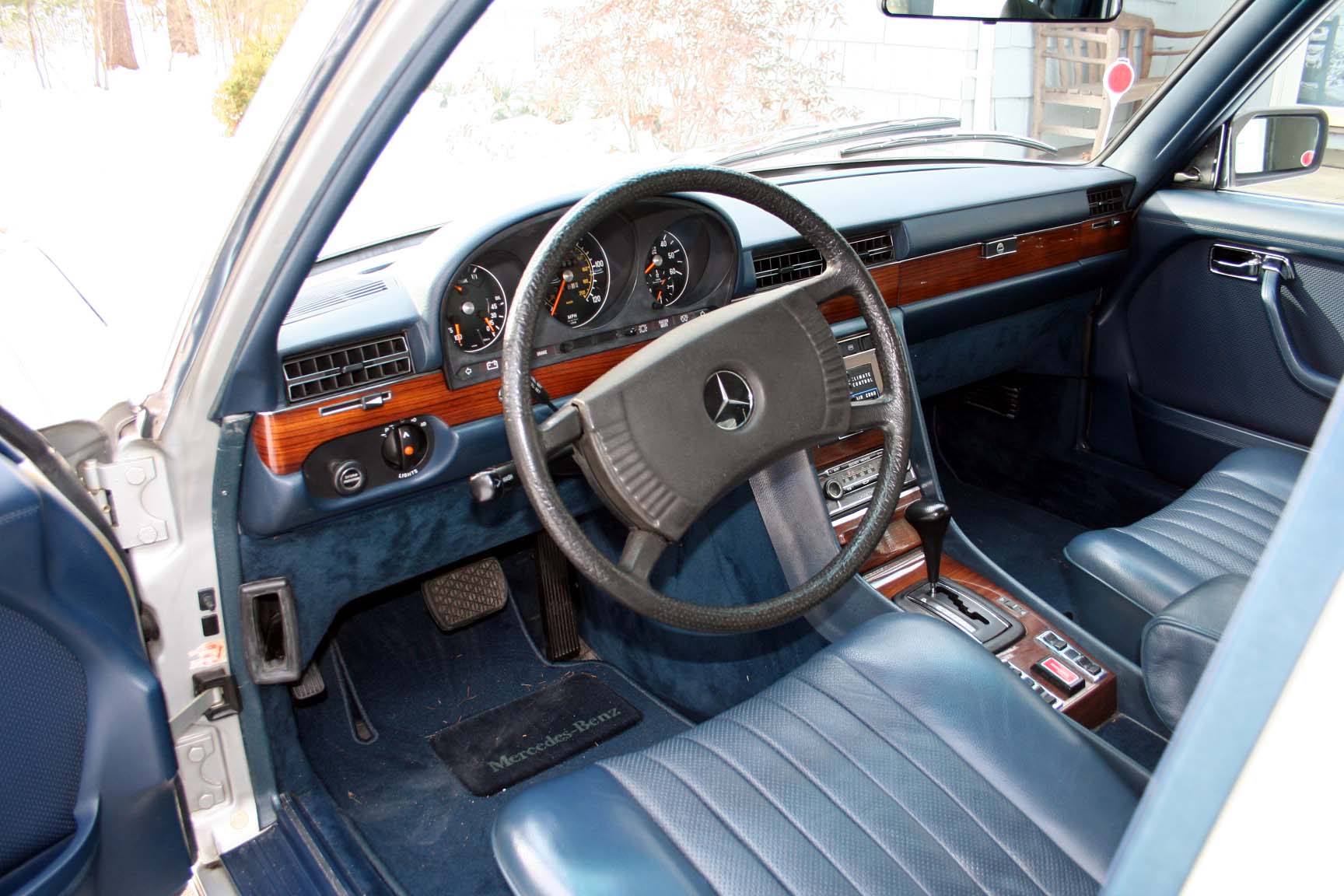 In the fall of 2009 I landed up with this "little gem". It's a 1982 Rolls Royce Silver Spirit. I purchased it with 39,000 miles on the odometer. The 5000+ pound chassis is powered by a massive 6.75 liter, bosch fuel injected V8. It is truly a fascinating glimpse into "exclusive proper motoring", very civilized indeed! I'm enjoying the experience of tinkering on it, and it really is a fun car to drive around in.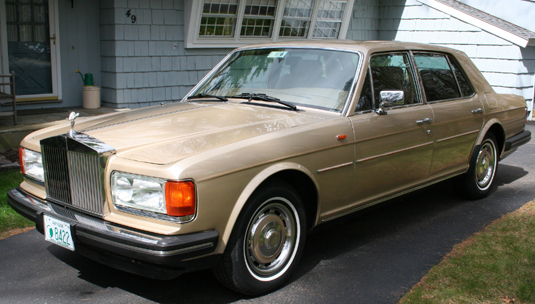 In late 2011 I picked up this beauty, a 1984 BMW 733i with only 114,000 miles with only 2 prior owners. The interior is as clean as the exterior and it is a wonderful driver. Remarkably, while it is a New England car it has zero body rust.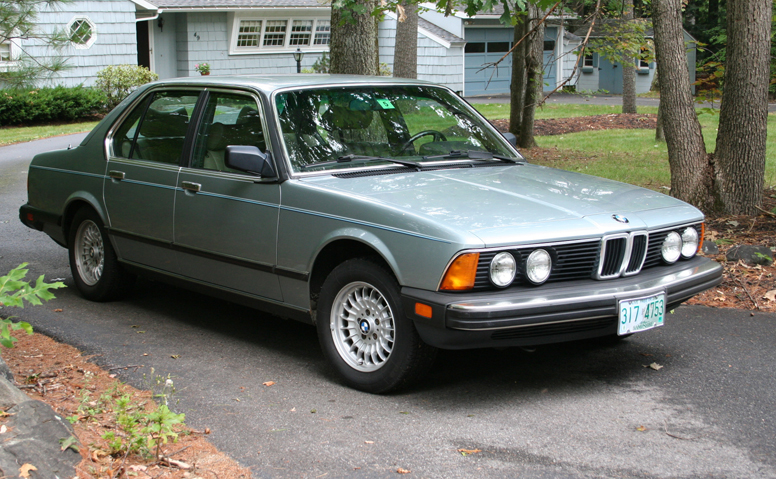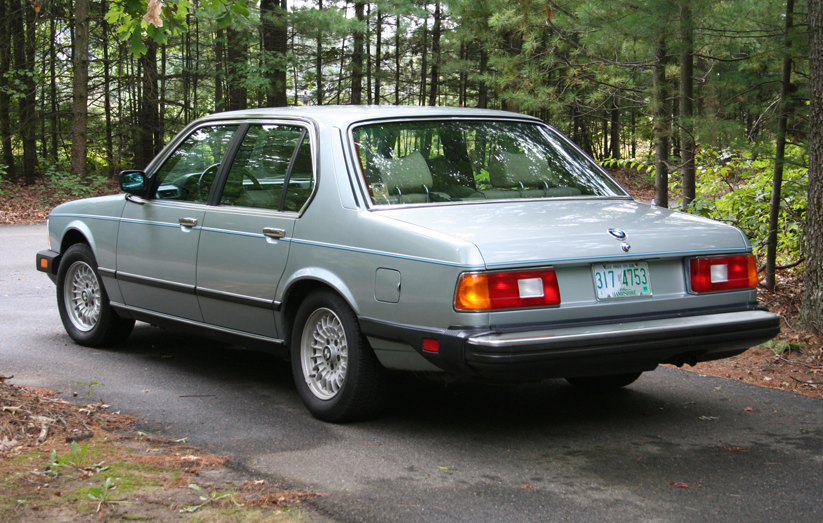 Finally, 2012 brings home this iconic classic, a 1991 Porsche 911 Cabriolet (known as the C2 or 964 C2). Bought from its original owner, the quintessential "little old lady" who only drove it in nice weather it only had 43,000 miles when I got it.