My eBay Nightmare - The Story of Minox Number 33333
This story begins on April 8, 2013 when I received an email from a fellow Minox enthusiast asking me why I decided to sell one of the prized pieces in my collection, Minox Nr. 33333. I replied that I had not decided to sell it and asked what he meant and he sent me a link to an eBay listing for item number 130885124911, which I have shown a screenshot of, below. To my surprise I saw that not only was MY camera for sale, but the photo of it was that which is shown on my website (you can see it for yourself if you look at the "view the collection" page).
I immediately contacted eBay about this fraudulent listing and, since it was a "buy it now" auction I ended the listing by buying it. After all, I was curious as to how the seller was going to deliver a camera which I already owned plus I didn't want someone else "buying it" if it was a scam.
I then initiated a dialogue with the seller, which is where it gets interesting. Here is a word for word account of our "discussion" through ebay:
Dear wrt12311,

I've reported this fraudulent listing to ebay so they will be suspending your account shortly.
- nhdoc
Dear nhdoc,

Have you visited doctor lately? We'll see whose account is going to be suspended shortly.
- wrt12311
Dear wrt12311,

You stole the photo of the item from my website...I already own #33333 and I called ebay and they looked it up. I don't know how you thought you could get away with that!
- nhdoc
Dear nhdoc,
This is the camera that I bought here http://www.kupujemprodajem.com/Analogni-fotoaparati-16-179-1-grupa.htm
This exactly same picture was posted there so I decided to put it on my listing believing that the picture was genuine. I still haven't received this camera from overseas to check the serial, but I trusted the seller over there. If you indeed own this camera, my apology, but you should have told me instead of making the purchase and threatening me. Since you reported me, I reported you too, so lets see where it goes.
- wrt12311
Dear wrt12311,

There's nothing like my camera on that site. Please stop trying to steal people's hard earned money and get a real job.
- nhdoc
Dear nhdoc,

Of course there isn't since I bought it and the add has been deleted. Although you are not worth my time and attention, I have attached the screen shot of my purchase history from that site where you can see the same picture. As for my job, I am professional engineer and I collect and exchange cameras as my hobby, but as I said you are not worth my time explaining anything to you and I hope there is very few people like you on Ebay and in this world in general. Better change your rude attitudes and think one more time why everybody hates your country in this world so much.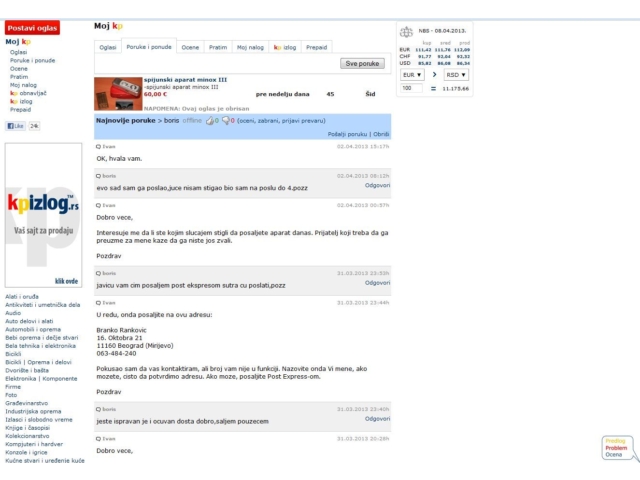 - wrt12311
Dear wrt12311,

Well, I guess you got ripped-off by them then since that photo is from my website.

And why would you list an item to sell which you don't even have yet I cannot understand. Anyway, your auction has ended and now nobody will be able to buy MY camera from you.
- nhdoc
Dear nhdoc,

Well you know, I can always relist it, and you go ahead and make false purchase again, so once you collect two penalties for unpaid item, then you'll indeed be suspended from here. I listed the camera because I'm expecting it to arrive in next few days, so it's not a big deal with time frame. And seriously, you should get some medical help. From your messages it really sounds like you are insane. You behave like a little child and like I stole YOUR camera or something. It's just ridiculous.
- wrt12311
Dear wrt12311,

You may NOT use the photo in another listing. My photos are copyrighted and ebay will pull the listing if you use it again, so please don't make me report it again. Here is where the photo originated and if you scroll down you will see the site was copyrighted.

http://minoxdoc.com/Collection.htm#Minox%20III%2033333%20From%20the%20Thayer%20Familys%20Collection

- nhdoc
Dear nhdoc,

I DID NOT say that I'll use it again. I just hate when somebody accuses me of doing something illegal and I didn't intend to do it. And if you really wanna protect your photos, then put watermark on them.
- wrt12311
Dear wrt12311,

I see you use photos with watermarks in your listings too, so that doesn't seem to stop you.



- nhdoc
Dear nhdoc,

Well that camera is indeed mine, and would you stop already? Maybe I should come over there and talk to you in person, now that I have your address?
- wrt12311
Dear wrt12311,

Since you now know you listed this camera in error please cancel the transaction so ebay will stop looking for me to pay for it. I saw you relisted another Minox camera instead so send in the request to cancel and at least you will get your fees back.
- nhdoc
Dear nhdoc,

Just to clarify one thing. Do you still believe that my intention was to steal your picture or you understand that the one who did it was the seller who sold me the camera overseas?
- wrt12311
Dear wrt12311,

Honestly, your intentions are irrelevant to me. Understand my position. You post an item for sale you clearly don't own, you can understand how that's irresponsible, right? I have been selling and buying on eBay for 17 years and would never consider listing an item I didn't personally inspect prior to posting it for sale.

Clearly, if you are telling the truth you put your faith in a crook, who, not only misrepresented what he sold you he stole copyrighted photos of it and then you, in turn put your reputation on the line by using his stolen photos. Not only that, you post a VERY rare and known camera for sale for much less than its actual worth, so you are "cheapening" my collection. You said I seemed insane, I assure you I am not, I am just tired of all of the crap that goes on when people think cutting corners and stretching the truth won't bite them in the end. In this case you see it did bite you. I called the listing fraudulent, of course you thought I was crazy but in fact it was fraudulent, right? You may not have stolen the photo but you listed something you didn't own and if you had sold it to anyone else how could you have ever delivered on your promises?

I hope you have learned something from this and will refrain from posting items for sale until you actually own them. The camera you now have on eBay which you are asking $499 for is worth well under $100, while #33333, because of its provenance is worth far more than the $499 you were asking for it. It is like selling one of Ernst Leitz's own cameras and not knowing what you have.
- nhdoc
Dear nhdoc,

You are technically right, but your approach was just rude and wrong, and I see that you still stick to the same approach and not showing any signs of humanity by saying that my intentions are irrelevant to you. In conclusion, I have learn my lesson and I'll leave this case expire and you'll receive the penalty. This is the least you deserve for this kind of behaviour but at least you'll learn some lesson to.
- wrt12311
Dear wrt12311,

Your apology is accepted.

I will leave you negative feedback and you'll lose out in the long run as you will be paying eBay fees too. Have a great day.
- nhdoc
Dear nhdoc,

First of all, I get fees reversed once the case is closed, but even if I don't I DON'T CARE about $20 as much as I care about principles and proper communication. Second, your negative feedback gets removed once the case is closed, since item wasn't paid for. But even if it didn't, again, I DON'T CARE about negative feedback either. So, next time before you decide to cock and play a tough guy, better think about consequences in advance, but best of all, better be polite and take nice approach to people. But I don't think person like you even care about people, and since you defend your camera collection so hard, I bet those cameras are the only friends you have in your life.
- wrt12311
Dear nhdoc,

Since after my last attempt to end this misunderstanding fair and close the case without unpaid strike on your account, you decided to be even bigger bitch than before and decline that, plus leave me negative feedback. Well, at least now you have learned that positive feedback that someone leaves you can also have the content of the negative one. I hope you enjoy it!
- wrt12311
You can see from this discourse how this seller has convinced himself that he's done nothing wrong and that I'm the bad guy here. He's even got the nerve to leave me feedback on ebay and comments like "never paid for item" - of course I never paid for it, I already own it and he doesn't have it to sell!
My favorite response of his is: "Better change your rude attitudes and think one more time why everybody hates your country in this world so much." Yes, my attitudes is why everyone hates America!
Hopefully, one day eBay will complete their "investigation" and make the feedback go away. But until then be warned - anything you own can show up for sale!
Anyway, here's a screen-shot of the listing and you can clearly see my photo was used, exactly as it appears on my "collection" website (it even shows the Thayer moneyclip!). Note how he says he has "inspected the camera and concluded it is in good working condition" - how could he have inspected it when he admits he doesn't even have it? His web of lies just gets more and more tangled.